Happy hour – definition and meaning
Happy Hour is a time when restaurants, bars, and pubs give you two drinks for the price of one. Sometimes, they serve other items at lower prices. Happy Hour usually coincides with the time people leave their workplace each day.
Happy hour also includes a time of day when drinks are cheaper.
The period is usually one hour long. However, it may last for two or even three or four hours.
According to the Cambridge Dictionary, the term refers to:
"A period of time, usually in the early evening, when drinks are sold cheaply in a bar or a pub."
Happy Hour – origin
The term originated in the US Navy during the First World War. It referred to a program aimed at relieving sailor boredom after navigating the seas for long periods.
The program consisted of events like dancing, live music, movies, etc. However, until the Prohibition in the 1920s, the term specifically referred to a time when people would drink alcohol.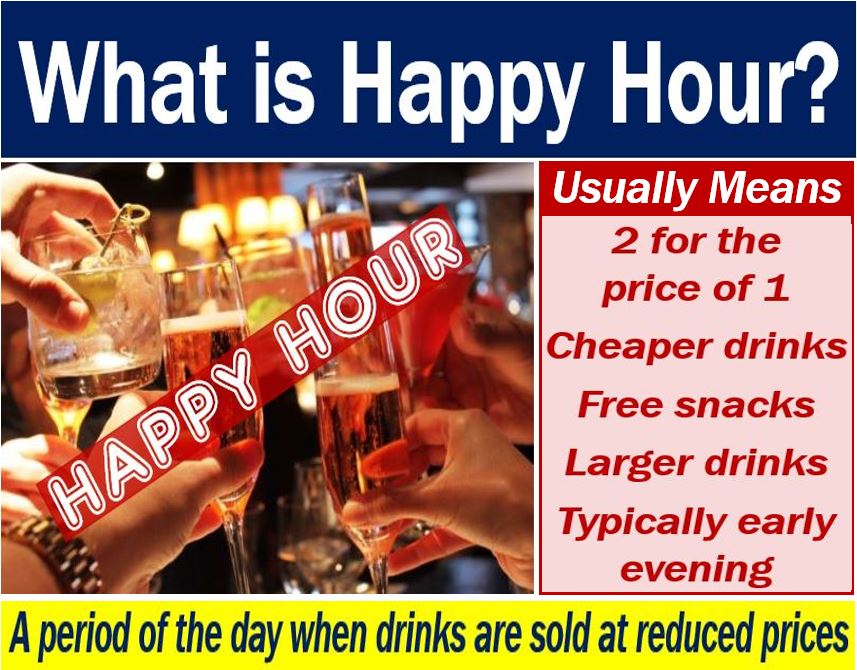 During the prohibition, people would meet at someone's home or speakeasies before going out to dine. A speakeasy was a bar that sold alcoholic drinks, i.e., illegally, during the prohibition.
This was essentially a cocktail hour. People subsequently adopted the term 'Happy Hour.' It was, in fact, a euphemism for their secret celebratory hour.
However, it was not until the 1960s that businesses started using the term in public.
Banning Happy Hour
Establishments would offer people cheaper drinks and food as a means of attracting more customers. However, some U.S. states banned businesses from using the term.
They banned them because they wanted to prevent and reduce accidents due to alcohol consumption.
The Finnish government banned Happy Hour for a decade. In January 2018, the authorities lifted the restriction.
Promoting Happy Hour in businesses helps fill the gap between lunch and dinner. In other words, business would be slow during that period otherwise.
Apart from attracting new customers, the Happy Hour offer also helps retain regular customers. In other words, it strengthens customer loyalty.
Customer loyalty is a crucial feature for client-centric businesses. Client-centric or customer-centric refers to a way of doing business where the customer is at the center of the business' focus.