What is an investment analyst?
An investment analyst, also known as a securities analyst, equity analyst, or financial analyst, is a person who looks at the performance of various types of investment and advises people on future investments. They provide research and data to help stockbrokers, fund managers and traders make investment decisions.
The information provided by an investment analyst helps ensure that investment portfolios are well managed and that potential opportunities are highlighted.
Many analysts are employed by investment management firms, where they provide data to in-house fund managers, while others work for investment banks and stockbrokers.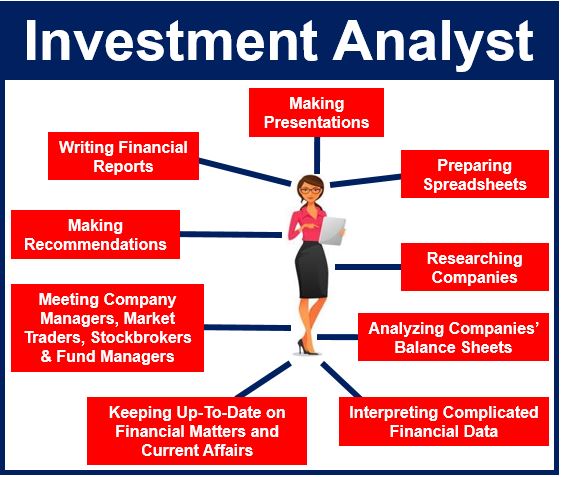 The average salary of an investment analyst in New York is $95,601, and $80,843 in the US. (Source: glassdoor.com)
Most investment analysts research opportunities and trends at home and worldwide.
Typical duties of an analyst include:
researching businesses,
analyzing companies' accounts, cash flow information, and profit and loss sheets,
analyzing and interpreting complicated financial data,
writing financial reports,
regularly meeting with stockbrokers, fund managers, stock market traders, and company managers,
providing advice and making informed recommendations,
keeping up-to-date with the domestic economy, world economy, and financial markets.
While investment work provides great promotional opportunities and financial rewards, targetjobs.co.uk warns that the role is demanding with very long working hours.
---
The ideal investment analyst candidate
In order to be considered for this type of job you must have a university degree in economics, business, maths or accountancy. If you do not have a finace- or business-related degree, it would be useful to have a relevant postgraduate qualification, such as an MBA (masters in business administration). You will need IT, communication, mathematics, and computer skills.
If you are interested in financial markets and enjoy research and analysis, being an investment analyst may be your ideal choice.
Many employers will only consider taking on applications with foreign language skills.
Some employers offer internship placements for undergraduates to gain experience in the field before graduating. Bear in mind that these placements are highly sought after, so prepare well for your interview.
An investment analyst will typically specialize in one industry, such as engineering or pharmaceuticals, or concentrate on a particular part of the world, for example the Far East or Eastern Europe.
Skills and knowledge
The Skills Funding Agency, part of the UK Government, says that if you want to be an investment analyst, you will need:
exceptional research skills,
good presentation and report writing skills,
to be an analytical thinker,
a good understanding of financial markets, business and economics,
to be good at working with numbers,
excellent IT skills, especially spreadsheets,
to have an interest in market trends and current affairs,
to be good at meeting deadlines,
to be a good team player, but you will often have to act on your own initiative.
PayScale Inc. says the following about investment analysts:
"An investment analyst works within a group that reviews and potentially approves investment products. Their responsibilities may also cover making recommendations to advisors on portfolio management, asset allocation, and the full range of investment products that advisors might use in their daily work."
There are many different types of analysts, including systems analysts, research analysts and psychoanalysts.
Video – Investment analyst's job description
In this video, Rouven, an investment analyst in Spain, talks about his job.