What is marketing research? Definition and examples
Marketing research involves systematically collecting data about consumers, rivals, and other entities. That data is analyzed to gain a better understanding of consumers' needs and other features of the market. Marketing people then summarize the data and conclusions in a report. The report helps senior managers and business owners make informed decisions regarding future plans and strategies.
Whatis.techtarget.com has the following definition of the term:
"Marketing research is the study of a given market in order to optimize product promotion and ensure that inbound and outbound marketing initiatives are cost-effective. Marketing research is often carried out to guide changes in product features and delivery schemes."
Three main types of marketing research
Marketing research generally consists of three main types of research: 1. Market research. 2. Product research. 3. Consumer research.
Market research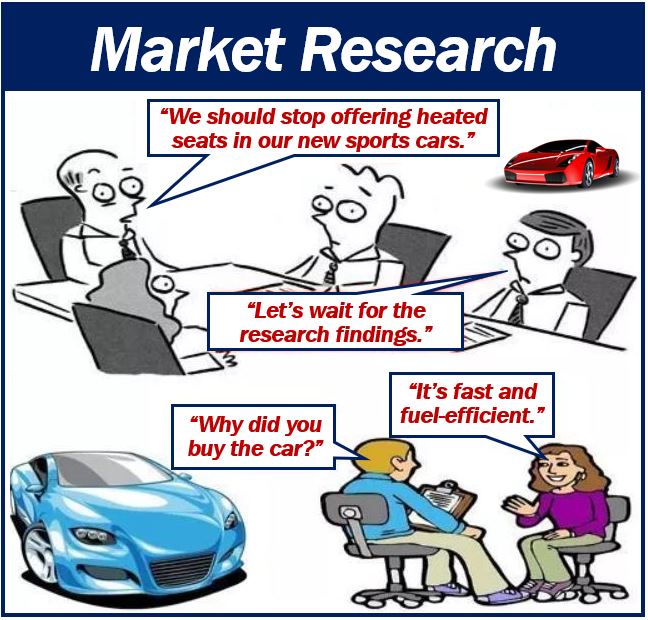 Market research is a study of the market, specifically who purchase a product, why they buy it, how competitors behave, and how something is sold.
It is an organized effort to gather and analyze data about target markets. The following quote comes from our article that defines market research:
"We often use the term with the same meaning as marketing research. However, marketing research concentrates on the marketing processes, while market research is about the market in general."
Product research
Product research involves identifying a need or want and the characteristics of the product or service that will satisfy it. In other words, if consumers have a desire or want, what features or benefits of your product satisfies them and to what extent.
This type of research helps companies determine what consumers really want or need. They can then tailor their goods or services to match those consumer wants and needs.
According to mnbaskool.com:
"Product research is the marketing research that provides information on the desired characteristics of a product or service. Product research helps companies to understand what the customers really want, so that the product can be tailored to match the needs of the customer. This research can help to refine new product ideas."
Consumer research
Consumer research is all about identifying consumer preferences, motivations, and purchasing behaviors. Specifically, the consumers that the company is focusing on; in other words, the target consumer.
Many marketing experts say that consumer research is part of market research. Marketers gather information through published sources, direct observation, face-to-face interviews, and mail surveys. Telephone interviews are also popular.
Who performs this type of research?
Some companies perform the research themselves while others hire third-party experts or consultants.
Hiring a consulting firm has both advantages and disadvantages. The main advantage is that consultants are marketing research experts. They probably have more experience and training than employees within the company.
The main disadvantage is that they may not understand some the products or services as well as company employees do. The same may also apply to customers and potential customers.
Video explanation