Office manager – definition and meaning
An office manager is a person who is responsible for the administrative activities of a company or organization. We sometimes call that person an administrative service manager or business office manager. Put simply; the person is in charge of running an office.
Running an office includes allocating physical resources such as supplies and office space, as well as scheduling internal events. Office managers also oversee operational staff such as administrative personnel, technicians, and accountants.
In other words, they must make sure that the company's or organization's support staff is running properly and smoothly.
The person may have to work with vendors, analyze energy consumption, and make sure the facilities are safe and clean.
The size of the team depends on the type and size of the organization. For example, in a multinational corporation, it could mean several hundred employees.
In a small business, on the other hand, the office manager may be in charge of just a couple of employees.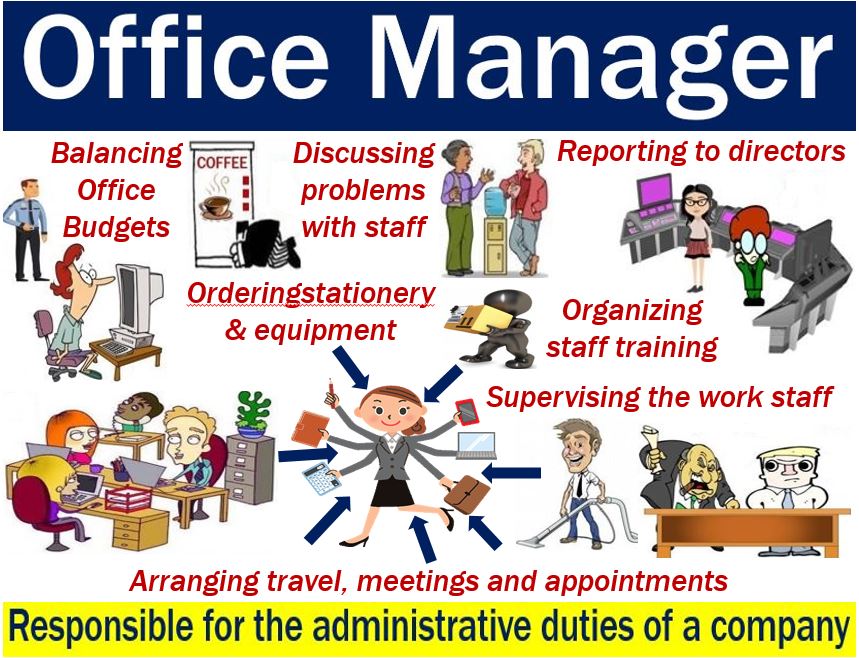 Office manager – qualifications
People with a high school diploma can become office managers. However, they will need years of experience first.
They will need to show familiarity with office environments and management skills before anybody considers them for the position. Additionally, office managers need to have a strong understanding of how a company works.
According to snagajob.com:
"Previous experience with ordering supplies, customer service, facilities maintenance and management, purchasing, office machinery will be crucial to landing the job."
Are you a secretary or administrative assistant? Are you also brilliant at your job? If you are, you have a good chance of becoming an office manager.
The lynchpin of the office
Office managers are the backbone or lynchpin of the office. They are the glue that binds the employees together.
When workers have a problem, they approach their office manager first. With several responsibilities at their feet, they must be good all-rounders and talented multi-taskers.
"The role of office manager is demanding and bursting with variety. Future office managers will love the diversity the role offers."
Office manager – salary
United States
The average salary for an office manager is $45,225 (£34,300) annually, according to payscale.com.
Experience does not appear to change how much the person earns significantly. In fact, the most experienced managers only earn slightly more than the least experienced.
United Kingdom
In the United Kingdom, pay ranges from £17,429 to £34,108 ($22,900 to $44,700). Salaries vary according to the size and type of company. However, as in the USA, salaries do not vary as much as they do in other positions.