What is rebranding? Definition and examples
Rebranding is the process of changing the image of a company or product. The aim is to make the new image more attractive to consumers. It is a marketing strategy that involves changing the logo, name, symbols, or a combination of all of them.
We rebrand to raise awareness of a company's or product's new identity.
A company's or product's brand is what gives it its look and feel. Therefore, when we rebrand, we want to give the company or product a new look and feel.
TechTarget has the following definition of the term:
"Rebranding is the creation of a new look and feel for an established product or company."
"The usual goal of rebranding is to influence a customer's perception about a product or service or the company overall."
---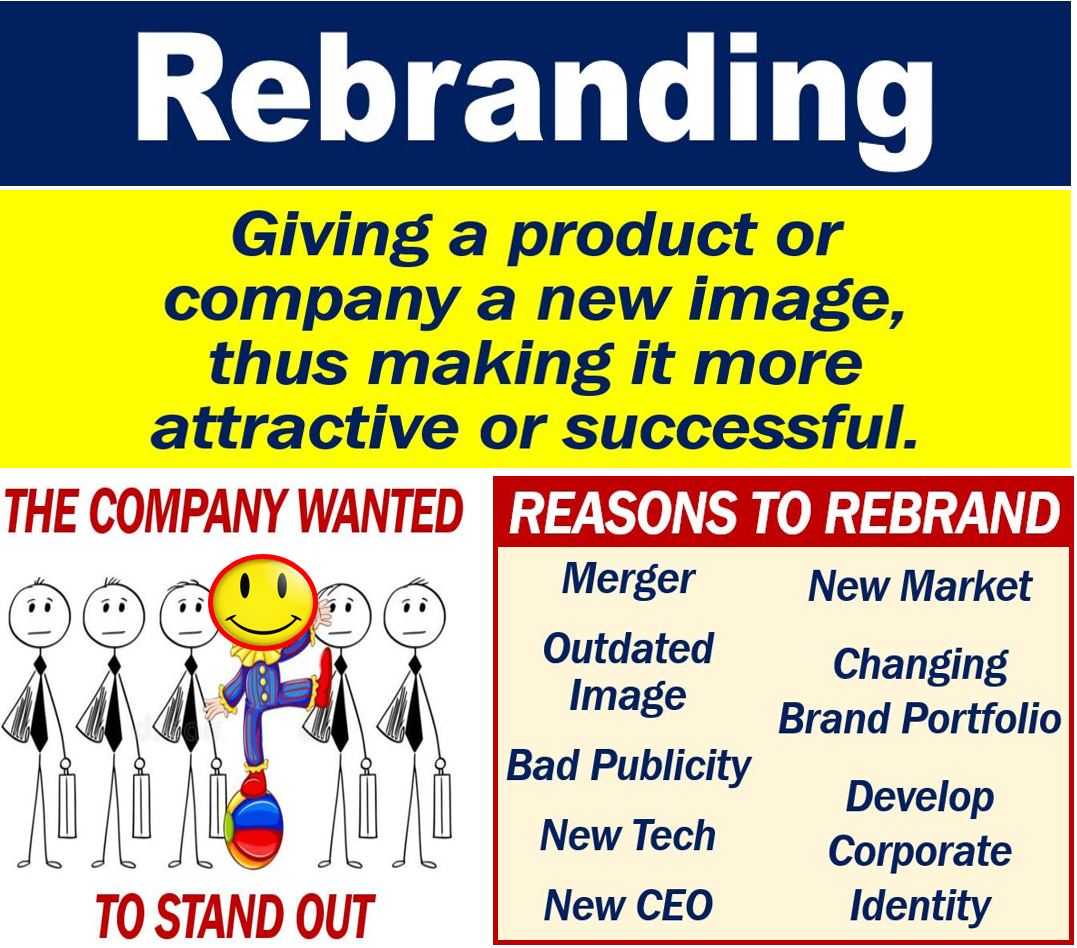 ---
Companies that decide to go through the rebranding process want two things:
Create a new identity that makes them stand out in the marketplace among their rivals. In this context, the word 'marketplace' means the same as 'market' in the abstract sense of the word.
Reconnect with customers.
---
Get it right!
Rebranding can be good for a company because it can boost sales. Also with goods, rebranding can extend a product's cycle in the market.
However, if you don't do it properly, it can be catastrophic for the company.
A rebranding process that goes wrong may break a company's connection with its loyal customers. In fact, it can even take away the whole meaning of its brand.
What does brand brand?
A company or product's  brand is its image and personality.
Brand management is a marketing technique that concentrates on improving the reputation of a company or product.
---
Rebranding – why?
If you plan to rebrand, it is crucial that you know the reason behind it. It is also important to correctly predict what resources you are going to use.
Above all, you need to know exactly how much you plan to spend.
Also, if the company has a problem, it is crucial to be certain that rebranding will solve it.
There are many reasons why a company may wish to rebrand. Perhaps there was been too much negative press. The rebranding may be in response to changing consumer habits.
If there was a shift in the company's product offering, having a new image may be a good idea.
Changes in the target market, an acquisition or merger, or even the era we are now in can be reasons to do a rebrand.
---
Types of rebranding
There are two main types of rebranding, reactive and proactive.
Reactive
Reactive is when the company responds, i.e., 'reacts' to something. Perhaps it responds to a series of events that have altered the company's or a product's image.
'Reactive' occurs when the aim is to completely change or discontinue the company's image.
This could be due to legal problems or negative publicity. It could also be due to a merger or acquisition.
Proactive
If you do something proactively, it means you are taking action in advance, rather than responding.
Proactive rebranding occurs when company executives are thinking ahead or see a growth opportunity.
Possible reasons include targeting a new market, changing focus, or reconnecting with the customers. Sometimes, it may be simply a desire to innovate.
---