What is Social Work?
Social work is a profession that assists individuals, families, groups, and communities in enhancing their individual and collective well-being. Its goal is to help people develop skills and the ability to use their own resources and those of the community to resolve problems
Purpose of social work
The main purpose of social work includes:
Evaluating the needs and conditions of individuals or communities.
Implementing methods that provide assistance, such as advocacy, counseling, or connecting clients with resources.
Advocacy involves working to ensure that individuals have the opportunity to have their voices heard on issues that are important to them, promoting their rights and interests in various forums and decision-making processes.
Crafting and advocating for policies that improve public welfare and advance social justice.
Studying social issues to create evidence-based practices and inform policy recommendations.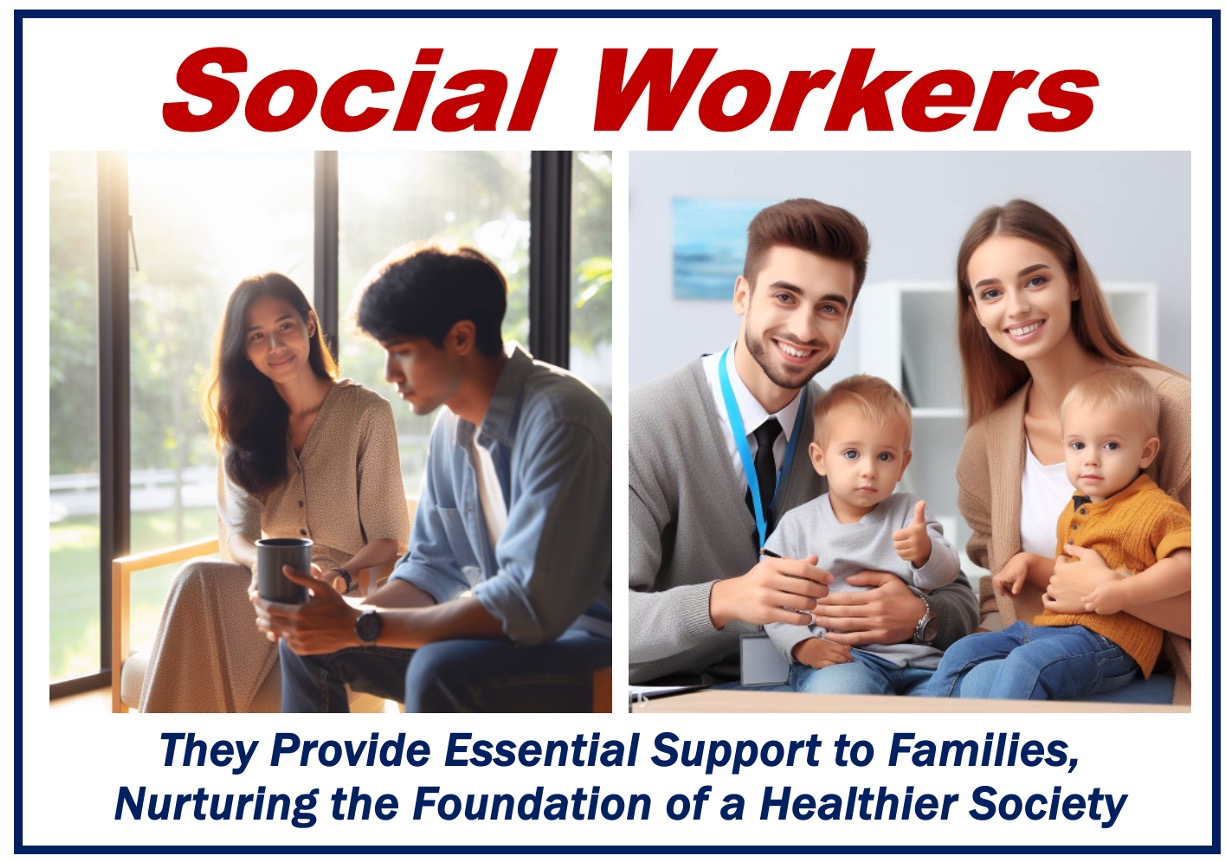 Areas of social work
There are many areas of social work, including:
Child, family, and school social work
Helping children and families overcome challenges, such as domestic violence, poverty, and abuse.
Medical and health social work
Medical and health social work involves assisting clients in managing their illnesses and navigating the healthcare system.
Mental health and substance abuse social work
Providing services for individuals with mental health problems such as addiction, depression, anxiety disorders, and schizophrenia
Encouraging neighborhood initiatives to develop new resources that improve social settings.
Values and principles
Social work is based on a set of core values:
Commitment to helping others.
Pursuing changes to end discrimination, oppression, poverty, and other forms of social injustice.
Respecting the worth of every individual.
Importance of human relationships
Recognizing the importance of relationships in promoting well-being.
Maintaining moral principles and trustworthiness.
Never stop learning and improving professional knowledge and skills.
Becoming a social worker
Just like every job, you need certain qualifications to become a social worker, these usually include:
A bachelor's degree in social work (BSW) for entry-level positions, or a masters degree in social work (MSW) for clinical practice.
Obtaining the necessary license, certification, or registration as required in many parts of the world.
Continued self improvement
Continual self-improvement through ongoing education is essential to remain informed about the latest social welfare policies and practices.
Challenges
Social work might seem rewarding, but it comes with its own set of challenges, such as:
Dealing with traumatic situations can take a toll on a social worker's mental health.
There might not be enough resources to adequately meet client needs.
Navigating the complex rules and procedures of social service systems can be challenging.
According to the US Bureau of Labor Statistics:
"Social workers are employed in a variety of settings, including child welfare and human service agencies, healthcare providers, and schools. Most work full time, and some work evenings, weekends, and holidays."
Other languages
Here is the term 'Social Work' in various languages:
Spanish: Trabajo social
Hindi: सामाजिक कार्य (Sāmājik kārya)
French: Travail social
Arabic: الخدمة الاجتماعية (al-khidma al-ijtima'iyya)
Bengali: সামাজিক কাজ (Sāmājik kāj)
Russian: Социальная работа (Sotsial'naya rabota)
Portuguese: Serviço social
Indonesian: Pekerjaan sosial
Urdu: سماجی کام (Samaji kaam)
German: Sozialarbeit
Japanese: 社会福祉 (Shakai Fukushi)
Swahili: Kazi ya jamii
Marathi: सामाजिक कार्य (Sāmājik kārya)
Telugu: సామాజిక కృషి (Sāmājika kr̥ṣi)
Turkish: Sosyal hizmet
Korean: 사회복지 (Sahoe bokji)
Tamil: சமூக வேலை (Samūka vēlai)
Vietnamese: Công tác xã hội
Italian: Lavoro sociale
Gujarati: સામાજિક કાર્ય (Sāmājik kārya)
Farsi: کار اجتماعی (Kar-e ejtema'i)
Bhojpuri: समाजिक कार्य (Samajik kaarya)
Hakka: 社會工作 (She hoi gong zok)
Mandarin Chinese: 社会工作 (Shèhuì gōngzuò)
Cantonese Chinese: 社會工作 (Se wui gung zok)
Jin Chinese: 社会工作 (Shèhuì gōngzuò) – Note: Jin Chinese is generally considered a dialect of Mandarin and may not have a distinct term.
Southern Min: 社会工作 (Sî-hāi kang-chok) – using Hokkien POJ romanization.
Kannada: ಸಾಮಾಜಿಕ ಕೆಲಸ (Sāmājika kelasa)
Swedish: Socialt arbete
Danish: Socialt arbejde
Norwegian: Sosialt arbeid
Finnish: Sosiaalityö
Ukrainian: Соціальна робота (Sotsial'na robota)
Compound phrases with 'social work'
We can make many compound phrases with the term "Social Work." Here are 15 of them:
Social Work Practice – Application of helping methods by social workers.
Social Work Ethics – Moral guidelines for social work conduct.
Clinical Social Work – Social work in mental health settings.
Social Work Education – Training and teaching of social workers.
Social Work Policy – Development of policies for social welfare.
Medical Social Work – Support for patients in healthcare settings.
Child Welfare Social Work – Services focused on child well-being.
School Social Work – Support for student success in schools.
Community Social Work – Efforts to strengthen community resources.
Social Work Research – Study and evaluation of social interventions.
Social Work Advocacy – Pushing for social reform and change.
Gerontological Social Work – Work with the elderly population.
Social Work Supervision – Oversight and guidance of social workers.
Social Work Administration – Management within social services.
Forensic Social Work – Social work in legal contexts.
Written by Nicolas Perez Diaz, November 3, 2023.