Zero dollar contract – definition and meaning
A zero dollar contract is a contract with no exchange of money, or payment might be just one dollar – a nominal payment. Government entities, for example, commonly use a zero dollar contract for the use of government-owned facilities. A firm may sign this type of contract to maintain a government facility, and in return, it is granted the right to rent out this facility to third parties for limited use.
A company that is submitting equipment for evaluation may sign a zero dollar contract with a university. A zero dollar contract allots responsibility and liability, even though no payment was made – or there was just the nominal $1 payment.
According to BusinessDictionary.com, a zero dollar contract is:
"A contract which does not contain any monetary remuneration between the parties for services or property. This type of contract is frequently used by business or government entities that hire a vendor to accept payments on their behalf."
"The vendor does not receive any money from the business or agency with which it has the contract, but is allowed to assess a service charge against anyone using the payment service."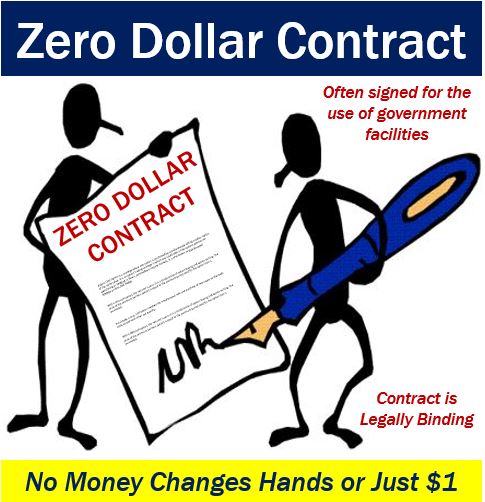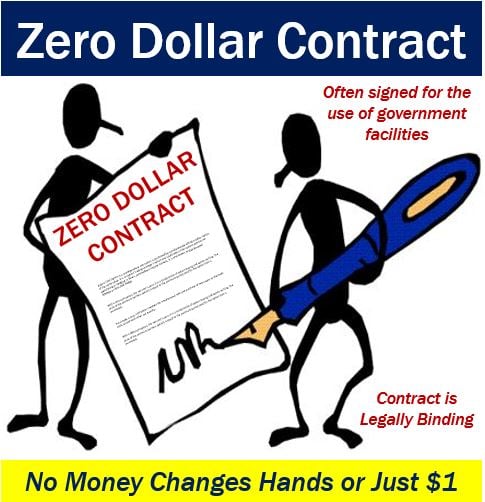 A contract in which either no money changes hands or a nominal payment of $1 is made.
Zero dollar contract – example
A zero dollar contract may be arranged between a commercial enterprise and a customer. For example, SmartDog Services, a provider of Oracle consulting services and solutions, has a pay-as-you-go arrangement with customers, which it describes as a zero dollar arrangement.
Customers call on SmartDog when they need help. The customer decides how much involvement is required, and only pays for the services that he or she receives. There are no monthly retainer fees or annual contracts.
The advantage of this arrangement is that when help is needed, the two parties do not have to go through the lengthy process of filling in paperwork.