Ford will begin testing fully autonomous self-driving Fusion Hybrid sedans on public roads in California next year.
The Michigan-based automaker announced that it's enrolled in the California Autonomous Vehicle Testing Program.
It has already tested the self-driving cars in a closed-course setting, but next year Ford plans on testing a small fleet of the vehicles on the roads of Silicon Valley and San Francisco.
The company has expanded its Research and Innovation Center in Palo Alto to become one of the largest automotive research centers in Silicon Valley – with over 100 researchers, engineers and scientists.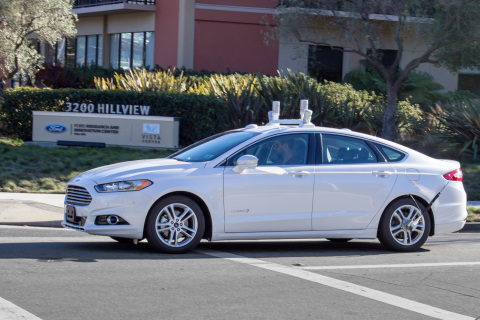 Ford's self-driving Fusion Hybrid.
"Our Palo Alto team has grown significantly this year, using research and innovation to explore and develop future mobility solutions," said Mark Fields, Ford president and CEO.
"We're attracting top talent from around the world to join our team in Silicon Valley, including employees from local technology companies and universities who want to make people's lives better by changing the way the world moves."
"Having a strong presence in Silicon Valley allows us to further accelerate our research on a wide range of technologies, and apply our insights to create real-world mobility solutions," said Ken Washington, Ford vice president, Research and Advanced Engineering.
Ford isn't the first company to begin testing autonomous technology in California though, other major car companies that have already received permits include Volkswagen, Mercedes-Benz, Tesla Motors, Nissan and Honda.
California is one of the only states in the US, along with Michigan, Nevada and Florida, to allow the testing of self-driving cars on public roads.
---
---
According to Ford, since the lab opened at the beginning of the year it has researched:
Autonomous vehicle test drive – the virtual interaction between an autonomous car and pedestrians, replicating real-world situations to better understand and develop responses to some of the unexpected things that can happen on the road.
Sensor fusion: Sensors on autonomous vehicles detect and track objects in the vehicle's view, fusing information together to provide a 360-degree view of the car's surroundings – including street signs, other vehicles, even pedestrians.
Camera-based pedestrian detection: Camera sensors serve as the eyes of a vehicle, allowing the car to "see" and sense pedestrians.
Data-driven health care: Through data collection from Ranger pickups and motorcycles outfitted with OpenXC technology, Ford is working with Riders for Health to collect GPS data and mapping coordinates to make health care, vaccines and medication delivery to people throughout rural Africa more efficient and accessible.