The German Business Climate index for industry and trade, issued by the ifo Institute, Center for Economic Studies (CESifo GmbH), increased significantly in November 2013.
German companies' expectations regarding business expansion increased to their highest levels since the spring of 2011. The authors of the report wrote "The German economy looks ahead to the winter months with confidence."
There was a sizable gain in the business climate indicator in manufacturing, which improved on the previous month, with stronger export expectations.
Retailers are now much more optimistic regarding their future business developments, although they see their current business situation as "largely unchanged".
Wholesalers are happier with their current business situation and feel much more confident regarding future business developments.
Construction is much more optimistic today, after seven consecutive months of declining confidence. The authors wrote "Although assessments of the current business situation are somewhat less positive, contractors are far more optimistic about their future business outlook than last month."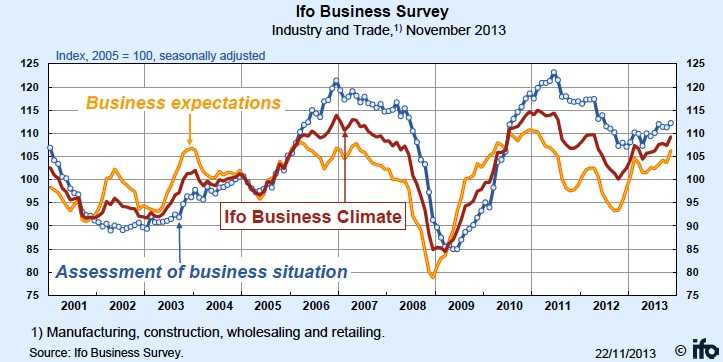 German Business Climate is better than at any time since April 2013.
Positive German Business Climate boosts the euro
The Euro rose against the dollar and other major currencies after the index was published, while German Bund futures extended losses.
The euro reached a four-year high against the Japanese yen today, gaining 0.6%. Bloomberg quoted Andrew Wilkinson, chief economist at Miller Tabak & Co. in New York, who said:
"It looks like we're going to see the euro zone return to genuine growth in 2014. There seems to be a finite magnitude in terms of how far the ECB can go to cut rates. That's no longer driving investors away from the euro."
Against the dollar, the euro had its second week of gains, rising 0.5% to $1.3548.
Mixed reactions to German success
Germany has low unemployment (5.2%), good economic growth, an enormous trade surplus and a positive business climate. However, not all countries and agencies respond positively to Germany's success.
Earlier this month the European Commission ordered an investigation to find out whether the German trade surplus might be harming the Eurozone's economic recovery. Germany's trade surplus exceeds 7% of its GDP today.
Last month the US Treasury criticized the German economic model as undermining European and worldwide economic growth.