GlaxoSmithKline PLC (Glaxo), the third largest pharmaceutical company in the world, has agreed to sell its drinks brands Lucozade and Ribena to Suntory Beverage & Food Ltd for $2.1 billion (£1.35 billion).
Suntory announced it will buy Glaxo's Ribena and Lucozade brands with cash at hand.
Suntory says it wants to make more inroads into European and emerging drinks markets.
Suntory bottles and distributes Pepsico drinks in Japan, a market it says is saturated and shrinking.
GlaxoSmithKline, headquartered in the United Kingdom, announced earlier this year that it was planning to sell off its two drink brands and focus more on  health-care products.
Glaxo makes and sells prescription and OTC (over-the-counter) medications as well as consumer products such as toothpaste and drinks. Glaxo's top-selling prescription medications include the anti-depressant Paxil ($11.6 billion sales in 2012), diabetes drug Avandia ($10.4 billion sales in 2012), anti-depressant Wellburtin ($5.9 billion sales), asthma drugs Ventolin, Flovent and Advair, and Zantac, an H2-antagonist.
David Redfern, Chief Strategy Officer, Glaxo, said:
"Lucozade and Ribena are iconic brands that have made a huge contribution to GSK over the years, but now is the right time to sell them as we increase the focus of our Consumer Healthcare business and execute the delivery of our late stage pipeline of pharmaceuticals and vaccines. We believe the future of Lucozade and Ribena is in good hands given SBF's established beverages business, ambitious growth plans and also their recognition of the strong performance and capability of the GSK employees working on these products."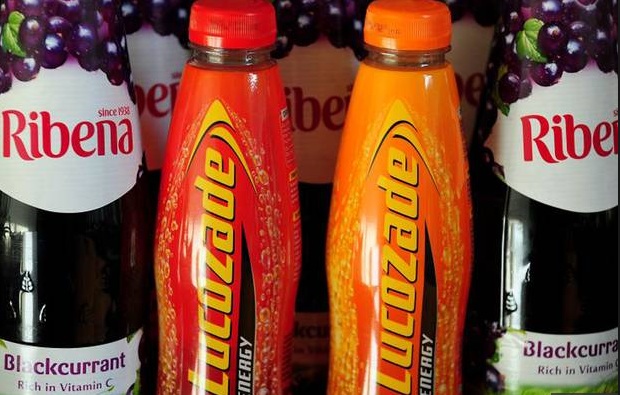 In July 2013, Suntory President, Nobuhiro Torii, said that his company was willing to spend more than $5 billion (¥500 billion) worldwide on acquisitions.
In 2009, Suntory bought the European soft drinks company Orangina Schweppes Group for $3.3 billion. This latest acquisition will further expand the company's reach into the European soft drinks' market.
Suntory says that the purchase of the Lucozade and Ribena brands will also give it greater access to emerging markets, such as those in Africa and Malasya.
At a news conference today, Mr. Tori said:
"This is a very rare opportunity that allows us to obtain strong brands. I think we were able to obtain an invaluable asset this time."
Worldwide sales for Ribena and Lucozade reached about $800 million (£510 million).
Glaxo says the money from the sale will go towards reducing the company's debt.
Suntory and Glaxo say the deal will be finalized by the end of 2013.
Suntory Holdings Limited owns the following businesses:
Suntory Beverage and Food Limited
Tipco F&B Co., Ltd
Subway Japan
Pepsi Bottling Ventures LLC
Orangina Schweppes Grou
Morrison Bowmore Distillers, Limited
Louis Royer S.A.S
Grupo Restaurante Suntory Mexico
Gold Knoll Ltd
Frucor Beverages Limited
Florigene Pty Ltd
Château Lagrange S.A.S
Cerebos Pacific Ltd
Suntory Beverage & Food Ltd was the 4th largest supplier of soft drinks worldwide in 2013, and the second in Japan. It is a core company of Suntory Holdings Ltd, with global consolidated sales over $18 billion in 2012.