A GlaxoSmithKline fraud probe into its commercial practices by the UK's Serious Fraud Office (SFO) is underway. GlaxoSmithKline (GSK) is also being investigated in China and several other countries for alleged improper practices.
In a press release today, GSK wrote:
"GlaxoSmithKline plc (LSE/NYSE: GSK) has today been informed by the UK's Serious Fraud Office (SFO) that it has opened a formal criminal investigation into the Group's commercial practices."
"GSK is committed to operating its business to the highest ethical standards and will continue to cooperate fully with the SFO."
The SFO informs that its Director has opened a criminal investigation into the commercial practices of GSK and its subsidiaries. Explaining that whistleblowers are a vital source of data to the SFO in its cases, it is inviting approaches from any individual with inside information "on all our cases including this one."
The SFO added that it can be contacted through its secure and confidential reporting channel.
GSK has given no details on whether the investigation covers just one or several incidents.
Several GSK corruption allegations worldwide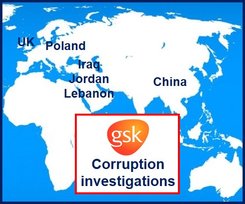 As accusations of bribery, corruption and improper practices extend to a growing number of countries, many are wondering how many more cases there might be over the coming months.
Lebanon and Jordan
In April, GSK said an investigation was underway in Lebanon and Jordan on the activity of a small number of people. A GSK spokesman said "We started investigating using internal and external teams as soon as we became aware of the claims. We have zero tolerance for unethical or illegal behavior."
Poland
A BBC Panorama program "Who's Paying Your Doctor" revealed at the beginning of April that 11 doctors and a GSK regional manager in Poland had been charged with corruption.
Former sales representatives were paid money to promote the asthma and COPD drug Seretide (fluticasone/salmeterol), which is known as Advair in North America. According to GSK, one employee had already been disciplined and was cooperating with the investigation.
Iraq
GSK announced at the beginning of April that a probe was underway into allegations that the company hired 16 state-employed doctors and pharmacists in Iraq as paid sales representatives.
Regarding the allegations in Iraq, a GSK spokesperson said "We are investigating allegations of improper conduct in our Iraq business. We have zero tolerance for unethical or illegal behavior."
The allegations of improper acts date back to 2012, and according to the Wall Street Journal, continue today. A person who was familiar with GSK's Middle East operations sent emails to the UK pharma giant late in 2013 and early 2014, reporting the improper practices.
According to the US Foreign Corrupt Practices Act and the UK Bribery Act, companies that operate domestically are banned from bribing government employees abroad.
China
In July 2013, Chinese authorities accused GSK of bribing officials and hospital doctors in an alleged price-rigging move. In May, Chinese police accused a GSK executive of ordering employees to bribe hospital officials so that they would use its drugs. GSK again issued its standard response of taking the allegations very seriously and having a zero tolerance for unethical or illegal behavior.