Global private wealth increased to $152 trillion in 2013, a rise of 14.6% on the previous year. The increase was greater than the 8.7% registered in 2012. According to the Boston Consulting Group, the key drivers were rising equity markets and the creation of new wealth in the rapidly developing economies (RDEs).
Private wealth grew across most regions last year, but with wide variations between markets. The Asia-Pacific region (excl. Japan) reported the fastest growth, as it did in 2012. However, some mature markets also witnessed double-digit increases, particularly in North America. Double-digit growth was also seen in Latin America, the Middle East & Africa (MEA) and Eastern Europe.
In Japan and Western Europe growth was more moderate (single digits).
According to the Organization for Economic Co-operation and Development (OECD), most of its members have seen growing inequality over the last three decades. The richest 1% continue to capture an increasingly more disproportionate share of income growth.
North America still leads in total private wealth
Private wealth (wealth held by households) was broken down as follows in 2013:
North America: $50.3 trillion
Western Europe: $37.9 trillion
Asia-Pacific (excl. Japan): $37. Trillion. Asia-Pacific is rapidly closing the gap. In 2008 it was 50% less than in North America.
Middle East & Africa: $5.2 trillion
Latin America: $3.9 trillion
Eastern Europe: $2.7 trillion
Global private wealth increased by $19.3 trillion last year, compared to a $10.7 trillion rise in 2012.
Rebound in equity markets
In almost all the countries the increase in private wealth was due to a strong recovery in equity markets that started in the third quarter of 2012. All major stock indexes gained in 2013, notably the Euro Stoxx 50 (14.7%), the Nikkei 225 (56.7%) and S&P (17.9%).
There was also relative economic stability in the US and Europe, with some European countries that had suffered particularly badly during the Great Recession, such as Portugal, Spain and Ireland, showing signs of recovery.
Other contributory factors were the tapering of quantitative easing in the United States and the overall supportive monetary policy of central banks. The MSCI Emerging Markets Index, however, declined by 5%.
Currency developments had a greater impact on private wealth growth in 2013 than the year before. The US dollar appreciated, due to the slowdown in quantitative easing, particularly in comparison to the Japanese yen and emerging market currencies.
As has been the case for several years, gross domestic product (GDP) growth in RDEs was a major driver of private wealth growth.
Global private wealth forecast
Over the next five years private wealth is forecast to post a compound annual growth rate (CAGR) of 5.4% until the end of 2018, reaching about $198.2 trillion. Half the predicted growth is expected to occur in the Asia-Pacific region. High saving rates and strong GDP growth in the emerging economies will also help push up private wealth.
The Boston Consulting Group predicts that by the end of 2018 private wealth will be broken down as follows:
Asia-Pacific (excl. Japan): $61 trillion
North America: $59.1 trillion
Western Europe: $44.6 trillion.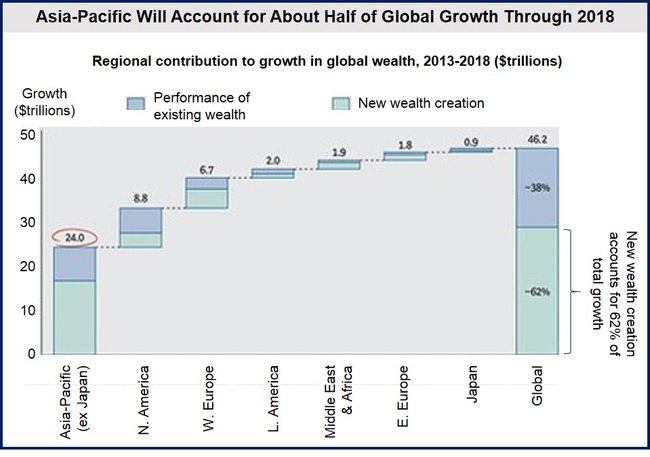 Asia-Pacific (ex Japan) will surge ahead.
More millionaires
Globally, there were 16.4 million millionaires (in dollar terms) in 2013, i.e. 1.1% of all households, compared to 13.7 million in 2012.
In the United States there were 7.135 million millionaire households last year, 2.378 million in China, 1.24 million in Japan, and 513 thousand in the UK. China pushed Japan into third place.
(Source: Boston Consulting Group)
American household wealth today is 14% below its last peak in 2006.