Global semiconductor sales expanded by 6.8% in November 2013 compared to November 2012, according to the Semiconductor Industry Association (SIA), which represents US leadership in semiconductor design and manufacturing.
Global semiconductor sales in November 2013 reached $27.24 billion, versus $25.51 billion in November 2012. November sales were 0.6% higher than in October.
World semiconductor sales grew for nine successive months up to November, driven mainly by an impressive 18.6% growth in the Americas year-over-year, and 4.2% month-over-month.
All SIA figures are compiled by the World Semiconductor Trade Statistics (WSTS) organization and represent a 3-month moving average.
SIA President and CEO, Brian Toohey, said:
"Buoyed by sustained growth in the Americas and Asia Pacific and a recent rebound in Europe and Japan, the global semiconductor industry has shown increasing strength in 2013 and is on pace for record revenue."
"With solid momentum across all regions and most product categories, the industry is well-positioned for a strong start to the new year."
Below are some highlighted data on regional sequentially monthly sales increases/falls:
The Americas +4.2%.
Europe +2%.
Japan +0.1%.
Asia Pacific (negative) -1%.
Below are some regional sales data comparing November 2013 to November 2012:
The Americas +18.6%.
Europe +10.9%.
Asia Pacific +5.5%.
Japan (negative) -8.8%.
Japan's decrease was partly due to the yen's devaluation. During recent months Japan's sales have been closed to the previous year's pace.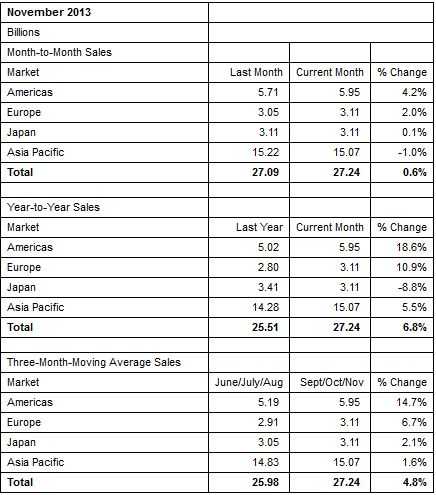 (Source: Semiconductor Industry Association)
2014/2015 global semiconductor market forecast to grow

The World Semiconductor Trade Statistics (WSTS) organization forecasts a 4.1% increase in global semiconductor sales for 2014, reaching $317 billion – higher than 2011's historical high of $300 billion.
For 2015, the WSTS predicts 3.4% growth, to $328 billion.
All products and categories are expected to grow in 2014 and 2015 in every region. The WSTS added "By end market, wireless and automotive are expected to grow faster than total market, while consumer and computer are assumed to remain stagnant."
The world's largest semiconductor manufacturers (in order) are Intel Corporation (USA), Samsung Electronics (Korea), Qualcomm (USA), Texas Instruments (USA), Toshiba Semiconductor (Japan) and Renesas Electronics (Japan).