General Motors Company announced its second year of record global sales. The American car manufacturer delivered a total of 9,924,880 vehicles around the world in 2014, representing a 2 percent increase over the previous record it set in 2013.
GM CEO Mary Barra said that the company is making "solid progress and has good momentum".
Even though GM posted impressive sales figures, fiscal 2014 hasn't been an easy year for the car giant. The company had to pay unexpected costs exceeding $1.8 billion associated with recalls and compensation.
Strong sales growth across China and North America
According to GM, in 2014 the company delivered 3,412,714 units in North America (a 6 percent increase), retaining a market share of 16.9 percent.
In China the company performed even better, with deliveries rising 12 percent to a record 3,539,972. GM now holds a market share in the region of 14.8 percent.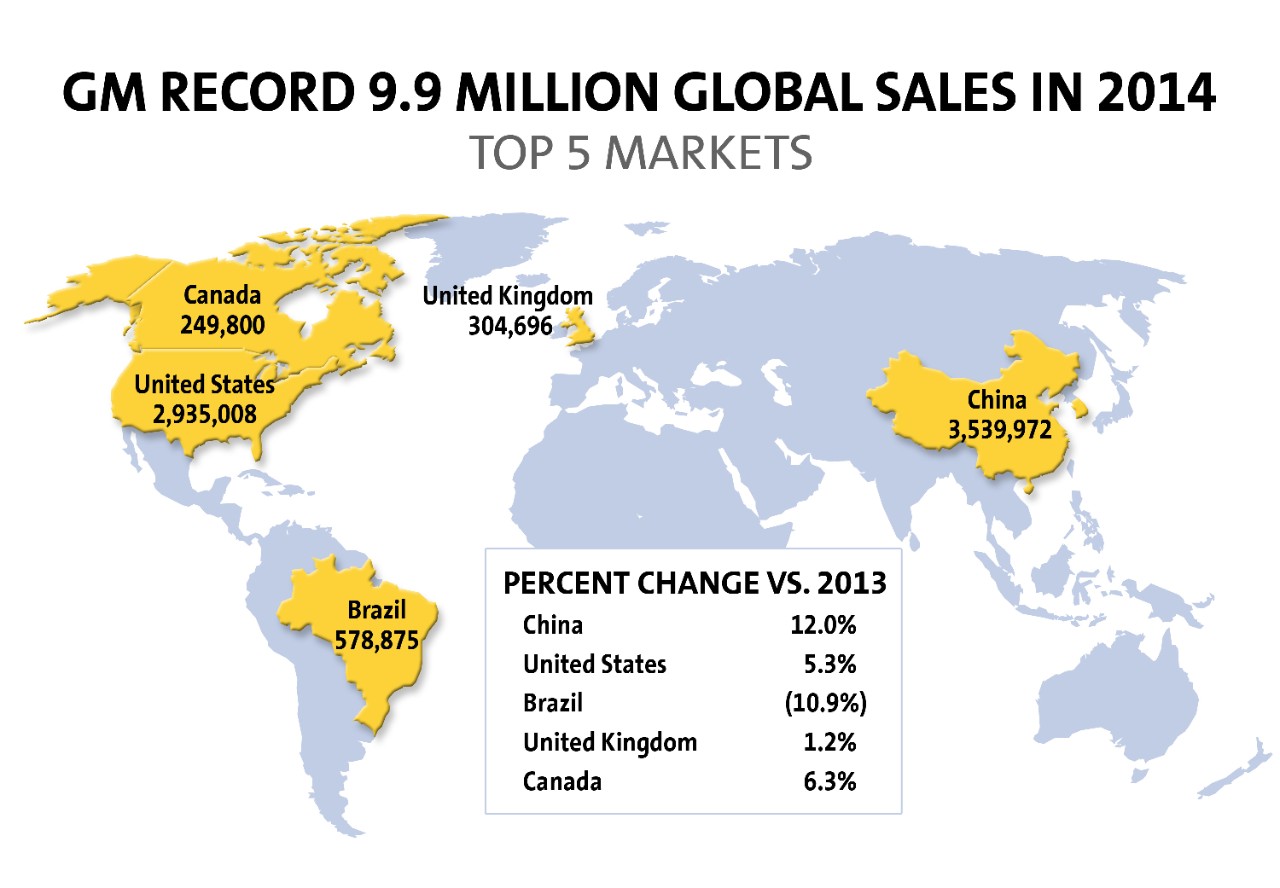 "Our customer focus, the new cars, trucks and crossovers we launched in China and North America, technologies like OnStar with 4GLTE and the revitalization underway at Opel helped us achieve another record year, despite very challenging market conditions in different parts of the world," said Barra.
GM is optimistic about fiscal 2015
The company forecasts that in 2015 its total earnings before interest and tax (EBIT) adjusted and EBIT-adjusted margin will increase versus 2014.
"We had a pivotal year in 2014, outlining a customer-focused strategic plan for the company and delivering on our commitments by achieving strong core operating performance," Barra said. "We'll build on this momentum in 2015 and continue executing our plan to become the most-valued automotive company."
The optimistic outlook is based on "modest global industry growth expected in 2015", particularly in its key markets such as China, the United States, and Europe.
"Overall, 2014 was a very solid year in which we met expectations on core operating performance, despite a number of significant headwinds," Chuck Stevens GM CFO said.
"Importantly, improvements in 2015 will keep us firmly on track to meet our near-term objectives and demonstrate solid progress toward our targeted margins of 9 to 10 percent by early next decade."