Google Inc posted first quarter revenue of $17.3 billion on Thursday, a 12 percent year on year increase.
The tech giant said that there was a 13 percent rise in the number of ads, or paid clicks.
However, the "cost per click" of ads fell by 7 percent in the first quarter.
Ad rates are lower on mobile devices and more users are accessing Google's services on their smartphones and tablets – explaining the drop in "cost per click".
Nonetheless ad revenue gained 11 percent in the quarter to $15.51 billion.
The company earned $6.57 per share, excluding items.
Net income increased to $3.59 billion, or $5.20 per share, from $3.45 billion.
According to Thomson Reuters I/B/E/S, analysts had expected the company to earn $6.60 per share on revenue of $17.50 billion.
Q1 2015 Financial Summary: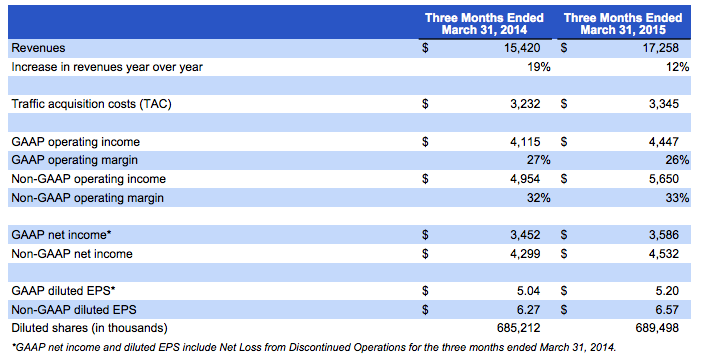 Source: Google Inc
Patrick Pichette, CFO of Google, said:
"Google's first quarter revenue was $17.3 billion, up 12% year on year. Excluding the net impact of foreign currency headwinds, revenue grew a healthy 17% year on year.
"We continue to see great momentum in our mobile advertising business and opportunities with brand advertisers."