Google announced that it has opened a new data centre in London for its Google Cloud Platform (GCP) customers, allowing users to run applications and store data in the UK capital.
It is the second facility of its kind in Europe – the company operates another data centre for its cloud services in Brussels.
"GCP [Google Cloud Platform] customers throughout the British Isles and Western Europe will see significant reductions in latency when they run their workloads in the London region," said product manager Dave Stiver.
"In cities like London, Dublin, Edinburgh and Amsterdam, our performance testing shows 40% to 82% reductions in round-trip latency when serving customers from London compared with the Belgium region."
The US tech giant announced that it also plans to open new GCP data centres in Germany, the Netherlands and Finland.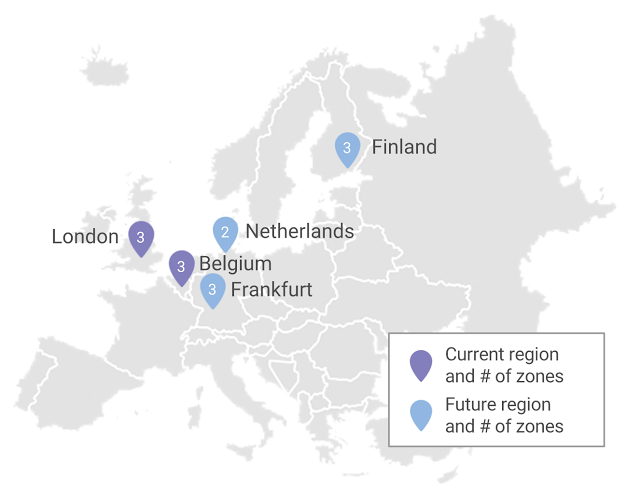 Google's goal is to offer companies a cheaper alternative to having their own data centres, charging for the amount of compute time rather than a flat rate.
Some of the company's customers include Coca-Cola, Khan Academy, and the Telegraph newspaper.
Karen Bradley, Secretary of State for Digital, Culture, Media and Sport, said:
"Google's decision to choose London for its latest Google Cloud Region is another vote of confidence in our world-leading digital economy and proof Britain is open for business.
"It's great, but not surprising, to hear they've picked the UK because of the huge demand for this type of service from the nation's firms.
"Earlier this week the Digital Evolution Index named us among the most innovative digital countries in the world and there has been a record £5.6bn investment in tech in London in the past six months."
A recent Gartner report found that Google is the third most capable cloud computing service provider, behind Amazon and Microsoft.
The consultancy firm described Google's share of the market as a "distant third", however, the company is beginning to catch up.
"Google uses deep discounts and exceptionally flexible contracts to try to win projects from customers that are currently spending significant sums of money with cloud competitors," the firm's June report said.
"GCP is increasingly chosen as a strategic alternative to AWS by customers whose businesses compete with Amazon," Gartner said.