On Monday Google revealed a fully functioning first real build of its self-driving vehicle prototype. The company says that it will be testing the vehicle on its own test tracks before driving it on San Francisco Bay Area roads next year.
According to a post published on the Self-Driving Car Project Google+ page:
"Today we're unwrapping the best holiday gift we could've imagined: the first real build of our self-driving vehicle prototype."
"The vehicle we unveiled in May was an early mockup—it didn't even have real headlights! Since then, we've been working on different prototypes-of-prototypes, each designed to test different systems of a self-driving car—for example, the typical "car" parts like steering and braking, as well as the "self-driving" parts like the computer and sensors. We've now put all those systems together in this fully functional vehicle—our first complete prototype for fully autonomous driving."
"We're going to be spending the holidays zipping around our test track, and we hope to see you on the streets of Northern California in the new year. Our safety drivers will continue to oversee the vehicle for a while longer, using temporary manual controls as needed while we continue to test and learn. Happy holidays!"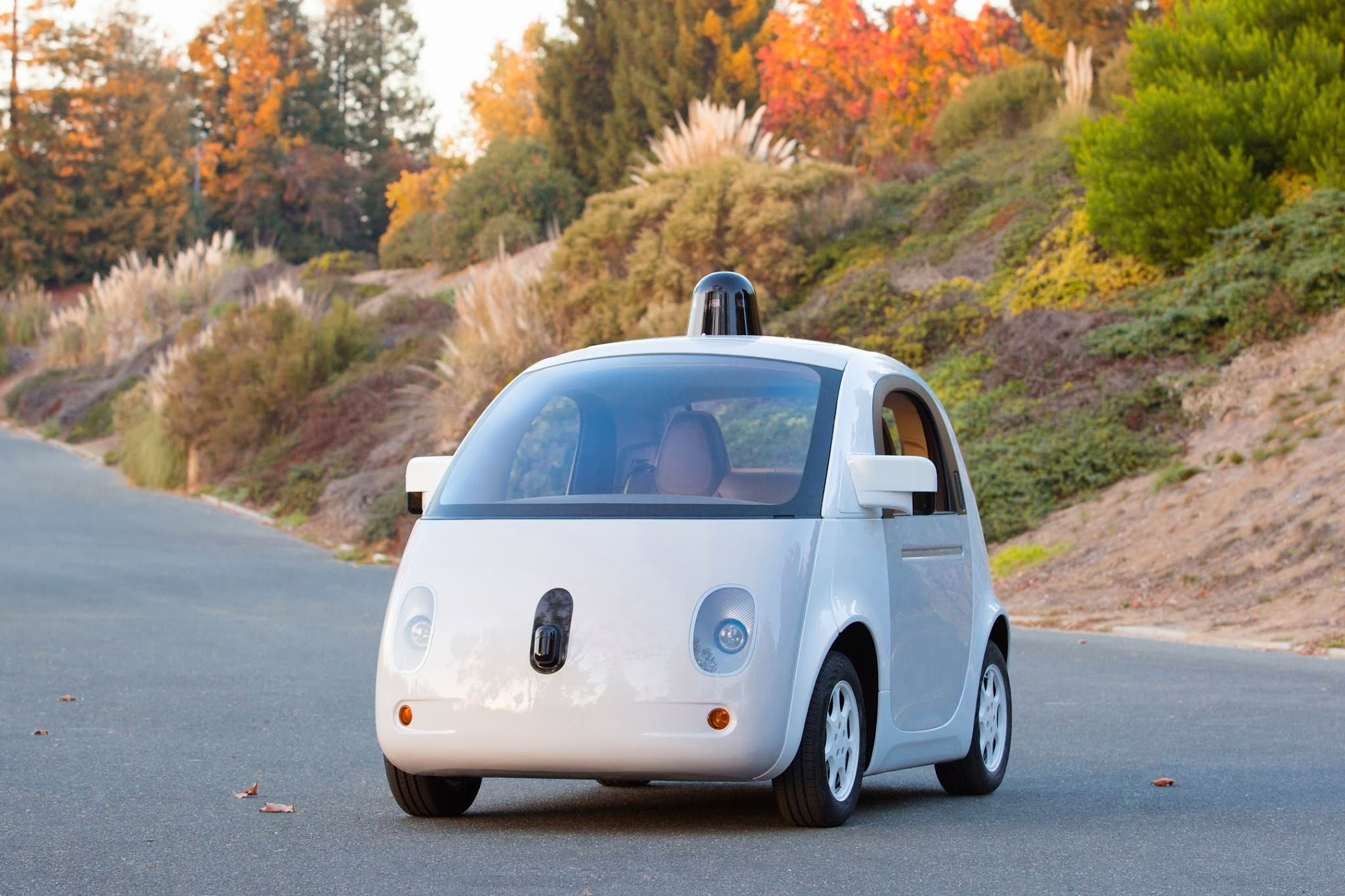 The the first real build of Google's self-driving vehicle prototype. Photo Credit: Google
The two-seater still needs to be approved by the government before it can legally operate without a human driver through downtown streets though.
"I can imagine these cars starting in closed, campus environments, or cordoned-off test areas with low-speed roads where the risk of collision, injury or death is much lower," Ratna Amin, director of transportation policy at San Francisco-based urban advocacy group SPUR, told San Jose Mercury News.
"People like point-to-point transportation," Amin said. "They're going to seek (the cars) if cycling, walking, transit or other modes don't meet their needs. The tricky question is managing the availability of automobiles – how easy we make it, how much space we devote to it. I think it's a really hot debate in denser cities."
The Google Self Driving Car project
The Google Self Driving Car project is led by Google engineer Sebastian Thrun, who was previously director of the Stanford Artificial Intelligence Laboratory and the co-inventor of Google Street View.
When Google revealed the design of the car in May, Chris Urmson, director of Google's self-driving automobile team, said:
"They won't have a steering wheel, accelerator pedal, or brake pedal … since they do not require them. They have sensors that get rid of blind spots, and they can detect objects out to a distance of a lot more than two football fields in all directions, which is especially beneficial on busy streets with lots of intersections."
According to Google, it will impose a speed limitation in its self driving vehicles of no more than 25 mph. In clear situations the vehicles are said to see up to a distance of two football fields.
Google believes that the project could significantly help reduce the number of drunk and distracted driving collisions. Automobile collisions are the number one cause of death for people ages 10 to 24. In the US, these accidents account for 30,000 deaths each year.
"We've been functioning on distinctive prototypes-of-prototypes, each and every created to test distinctive systems of a self-driving vehicle … like steering and braking, as well as the self-driving parts like the personal computer and sensors," Google said. "We've now place all these systems together in this totally functional car."
Video – Google's Self-Driving Cars are Ready to Roll