Would you say that government trust is less since the global crisis?
According to an OECD (Organization for Economic Co-operation and Development) report, only four in every ten citizens report having confidence in their government.
Unsurprisingly, government trust has fallen most steeply in the hardest-hit nations, such as Spain, Portugal, Slovenia, Greece and Ireland.
Although government trust has fallen, that does not mean people's confidence cannot be regained. A new OECD report, Government at a Glance – 2013 says that if governments are really serious about recouping their citizens' trust, they need to become more:
Transparent
Receptive
Efficient
Government trust in 2012 and change since 2007
In only 10 countries confidence in government improved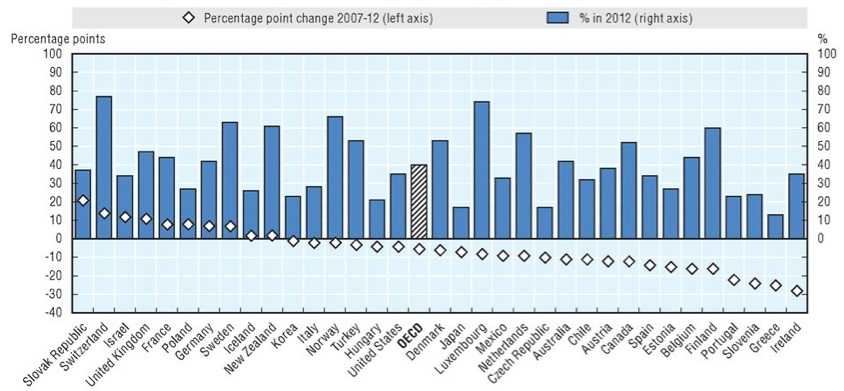 In order to regain trust, governments have to put their "fiscal houses" in order, provide open and transparent data, and deliver top quality services to their people.
Angel Gurría, OECD Secretary-General said:
"Citizens look to governments to lead the way. Without strong leadership, supported by effective policies, trust is easily eroded. Good governance means putting the needs of people at the centre of policy-making."
"Action needs to be taken urgently. Building back trust is crucial to implement the necessary structural and fiscal reforms that are key to restoring growth and promoting well-being. Government at a Glance is a unique international comparator that can help policy-makers chart the way towards rebuilding that trust."
In the 2013 edition, the report goes through more than 50 indicators when gauging the performance of the OECD's 34 member governments. Indicators range from procurement policies, public sector employment, hospital waiting times, to government spending.
Government trust less but citizens satisfied with most services
Even though governments are trusted less than they were before the crisis, citizens are generally still satisfied with the majority of public services they receive. For example:
72% say they trust their local police force.
72% are satisfied with health care.
66% are pleased with their education system.
However, there is still a gender gap in the public sector. Only 40% of middle management and 29% of senior posts are occupied by women.
The report looks at 8 broad areas and compares how well governments have performed, these areas include:
strategic governance
public finance
budgeting practices
public sector pay and employment
women in government
public procurement
open and inclusive government
quality and accessibility of public services
Market Business News recently reported on an OECD study showing how the global crisis affected people beyond loss of jobs and wages.