Retiring abroad is a common goal that many people share. It is an adventure of a lifetime to spend one's golden years in a different country and enjoy the lifestyle they have always dreamed of after years of hard work. Below are 5 of the greatest places to retire abroad.
1. Alicante, Spain
If you have ever considered retiring in Alicante, Spain, you are making the best decision of your life. There are countless reasons why this province is the perfect spot for you to spend your golden years. Alicante has a significant number of retirees living there because they have discovered the idyllic life they have always dreamed of. The city has a unique charm offering conveniences to its residents, making it an ideal spot to retire.
The Casco Historico, the old town of Alicante that lies near the sea, is home to shops, restaurants, and winding roads. Located at the north end of the city is the Sta Barbara castle. Not too far away from the old town and the seaside are the more trendy neighborhoods with their modern apartment buildings and parks.
The Mercado Central, an indoor market, is only a 10-minute walk away from the seaside, where they sell everything from fruits and vegetables to seafood and pickled goods. They also offer a wide array of olives. A charming and clean city with beautiful beaches and lovely weather, Alicante provides its residents with a quality lifestyle. The locals are hospitable and warm and make foreigners feel right at home in this laid-back city.
Additionally, Alicante is connected by a rail system with other areas of Spain. One can travel to Madrid, Barcelona, and Valencia via the country's AVE trains. Alicante is not only an excellent destination for tourists but one of the great places anyone can retire abroad.
2. Playas del Coco Costa Rica
Another favorite location of many expats to retire is Playas del Coco in Costa Rica. Each year, foreigners opt to live in this beach community because of its proximity to the US and Canada, beautiful weather, diverse culture, and various natural attractions it offers residents and tourists alike.
Playas del Coco is indeed on top of the list of the most idyllic places to retire. The community is organized and self-sufficient with various restaurants and shopping centers, essential services such as hospitals offering excellent medical care, pharmacies, banks, a post office, and other amenities like other cities.
While it may be a beach community above anything else, retirees can look forward to these conveniences while living a stress-free life. The sunny weather is perfect for beach lovers who enjoy other activities such as snorkeling, diving, sport fishing, and many more.
The rainy season does not last long compared to other cities. The place shows off the breathtaking landscape at its best. Moreover, new residents will love the warm and friendly disposition of the locals who welcome their new neighbors with open arms.
3. Penang, Malaysia
The Malaysian state of Penang is a tiny tropical island located on Peninsular Malaysia's northwest coast and is a popular holiday destination. In 2008, it was listed as a World Cultural Heritage Site by UNESCO because of its beautiful landscape and cultural sights. Known as the "Pearl of the Orient," the island is known for its sandy beaches and excellent cuisine, making it Malaysia's food capital. Formerly a British colony, the locals speak English, making it much easier for foreigners to communicate.
Penang is a multicultural state with people of various nationalities living harmoniously. Thus, the food is also a mixture of multiple cultures and is known to be number one in Southeast Asia. For many years, Penang has been a popular destination for many expats, as it is not as busy as Kuala Lumpur. Still, it offers modern amenities for the comfort and convenience of its residents. The beaches are lovely for those who enjoy the sun and the sea.
Shopping is a joy whether at Queensbay Mall or the Gurney Plaza. There are high-end stores, much like other cities offering branded goods, as well. While people here may enjoy a high standard of living, it is surprisingly inexpensive. The food is cheap, even when dining at top-class restaurants.
Penang also offers modern facilities such as excellent hospitals and healthcare centers. There are universities and schools, performing centers, and a good airport. Internet service is readily available too. All in all, it is a great place to retire.
4. Abruzzo, Italy
Abruzzo, located in Central Italy, is an expansive region of charming towns and beautiful scenery, from its seashore to its castles and artfully decorated cities. It is also known as a wine country, producing one of the renowned vintages of Italy, the Montepulciano d'Abruzzo.
It is home to three national parks where one can enjoy numerous outdoor activities such as mountain biking, hiking, skiing, and paragliding in its mountain areas. There are excellent golf clubs for those who love the game and theatres and art centers for the culturally inclined.
Additionally, Abruzzo has several universities and schools. Retiring here is appealing primarily because of the beauty of its cities. The stone-built buildings, uncluttered lanes, and lively weekly markets all contribute to the region's unique charm. It is also a dream retirement destination as, despite all of its attractions, the cost of living is quite affordable.
Village homes or villas cost surprisingly little, and retirees can always find beautiful homes that fit right into their budget. Abruzzo is the perfect place to retire, with its beauty, friendly atmosphere, and affordability for those who want to get away from bustling tourist areas.
5. Corfu, Greece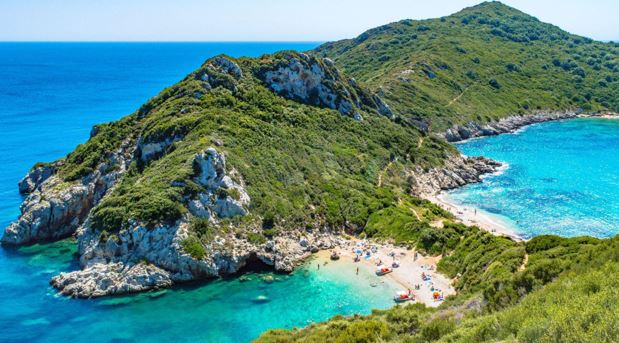 Corfu is a small island in Greece that houses about 100,000 residents, located a few miles away from the western side of Greece. It is unlike other Greek islands that are typically rocky as it is considered to be one of the country's greenest regions. The town is surrounded by a picturesque harbor and is a hub of activity.
During the off-season, however, there is a feeling of peace and tranquility as winter sets in. Shops are frequently closed, and there is less abundance of transportation. For those who enjoy a peaceful, quiet life, this is the place to be. The stone streets of the old town are filled with multi-colored houses, shops, and dining establishments.
At another corner, one can enjoy dining al-fresco in a sunny square shaded with lovely bougainvillea trees. Fresh fruits and vegetables are in abundance, and freshly caught fish is always available. There is much to explore here, from its ancient church ruins to the sandy beaches and crystalline waters. Being a British protectorate in the 1900s, Corfu is popular with British expats, and English is a common language. Retiring in Corfu offers an easy life, which is what retirees are looking for.
These are 5 of the best places to retire abroad, where you can spend the rest of your life surrounded by beauty and all the comforts you have grown accustomed to in your home away from home.
---
Interesting related article: "What is a Pension?"