As the GSK bribery claims extend to Jordan and Lebanon many are now asking how many more cases around the world will emerge over the coming months. Just in the last ten days allegations of improper conduct have appeared in four different countries.
According to GlaxoSmithKline (GSK), the UK's largest pharmaceutical company, the activity of a small number of individuals is being investigated by the company in Lebanon and Jordan, where a total of 140 people are employed.
A company spokesman said "We started investigating using internal and external teams as soon as we became aware of the claims. We have zero tolerance for unethical or illegal behavior."
Update: May 24th, 2014: The UK's Serious Fraud Office said today it is investigating GSK's commercial practices.
GSK Bribery claims – Poland
Earlier this month a BBC Panorama program "Who's Paying Your Doctor" revealed allegations of a GSK regional manager and eleven doctors who had been charged with corruption in Poland. According to a former GSK representative, Polish doctors were given money to promote asthma and COPD (chronic obstructive pulmonary disease) drug Seretide (fluticasone/salmeterol). GSK said one employee had already been disciplined.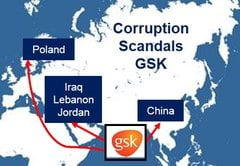 GSK Bribery claims – Iraq
Not long before the Polish scandal, another investigation was underway regarding improper conduct in Iraq.
GSK was alleged to have hired 16 Iraqi state-employed pharmacists and doctors as paid sales reps. A GSK spokesman said that the company had zero tolerance for unethical or illegal behavior, a phrase echoed each time a bribery scandal erupts in different parts of the world.
China – last year allegations were made in China of corrupt behavior by GSK involving hundreds of millions of dollars in order to gain market share.
Every time GlaxoSmithKline tries to improve its sleazy image regarding corruption abroad, a new scandal emerges, undoing all the hard PR work.
No more payments to doctors or sales rep targets
In the middle of December 2013, GSK announced that it was going to stop paying doctors to promote its drugs. It added that its sales representative would no longer be given individual targets.

"Sales representatives who work directly with doctors and hospitals will be assessed and rewarded according to their technical knowledge, the quality of service they provide to support and improve patient care, and the overall performance of GSK's business," the company added.
Unfortunately, since then a number of corruption scandals in different countries around the globe have taken the gloss off December's announcement, as far as the general public is concerned.
Written by [google_authorship]