A Halliburton oil spill settlement worth $1.1 billion has been announced by the Houston-based multinational oil field services firm. The company says the deal resolves most of the legal claims it faces over its role in the Macondo well incident in the Gulf of Mexico in 2010, which caused the worst oil spill in US history.
The United States District Court for the Eastern District of Louisiana needs to approve the deal, which includes legal fees, Halliburton said in a statement.
The money will be paid in three installments over the next two years into a trust until all appeals – involving local governments, businesses and Gulf Coast residents – have been resolved. Halliburton's previously accrued loss-contingency provision related to the case currently stands at $1.3 billion.
Three companies blamed for the disaster
Three companies – London-based BP, Halliburton, and Switzerland-based Transocean – have been blamed for the spill. Hallburton injected defective cement into the wall of the well that was at the center of the spill.
The well – Deepwater Horizon – was owned by Transocean and operated by BP.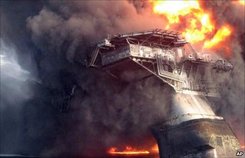 Halliburton says BP was to blame for the faulty cement. The three companies initially pointed the finger at each other and claimed to be innocent of any wrongdoing.
BP and Transcocean have already paid out billions of dollars to individuals affected by the spill.
Extent of negligence not yet decided
The three firms are still awaiting a ruling from New Orleans U.S. District Judge Carl Barbier on the extent to which each was negligent in the explosion that resulted from the spill.
If Halliburton's settlement is approved, it voids the risk of further damages if it is found to be grossly negligent by Judge Barbier.
BP is likely to have to pay out the most when Judge Barbier rules. The penalty could potentially be as high as $18 billion, though BP estimates the figure will be closer to $3.5 billion.
The latest settlement resolves claims made by BP that the spill was Halliburton's fault, and will protect the oil field services company from any liabilities related to a 2012 settlement BP made with the US Department of Justice.
The settlement also resolves a class action by the commercial fishing industry.
Four years of uncertainty
Halliburton hopes this deal removes much of the uncertainty that has haunted it during the last four years as investors sat back waiting to see how much the total payout tally might be.
Now that its largest piece of liability appears to be resolved, the company hopes it can now concentrate on developing new oilfield technology that will help improve profits globally.
Stephen J. Herman and James P. Roy, lawyers for the plaintiffs, said:
"Halliburton stepped up to the plate and agreed to provide a fair measure of compensation to people and businesses harmed in the wake of the Deepwater Horizon tragedy."
In an e-mailed statement to the Wall Street Journal, Geoff Morrell on behalf of BP wrote:
"This settlement marks the very first time – despite three years of official investigations and litigation implicating the company – that Halliburton has acknowledged that it played a role in the accident."