Harvard University has launched a $6.5 billion fundraising campaign, the largest ever fundraising effort in the history of higher education.
According to Harvard University, if successful the campaigned would result in an altered institution, with a thriving Allston campus, modernized student housing, a huge expansion at the School of Engineering and Applied Sciences, an enhanced global presence, greater financial aid, and a better resourced arts and sciences faculty.
Harvard says it has already raised $2.8 billion in pledges and donations. So, it needs another $3.7 billion to hit its $6.5bn target.
The public kick-off included a series of on-campus events, including:
A question-and-answer session with Microsoft founder, Bill Gates, who left Harvard before completing his course to found the company.
A speech by Drew Faust, Harvard President, at Sanders Theatre.
A faculty panel on the new frontiers of knowledge at the Memorial Church.
Drew Faust said:
"We launch The Harvard Campaign at a moment when higher education is being challenged to reinvent itself, and we embrace this opportunity for a campaign that aims to do more than merely extend or reinforce long-standing strength and eminence.
The Harvard Campaign calls on us to articulate and affirm the fundamental values and purposes of higher education in a world transformed by globalization and technology, a world filled with promise for improving human lives, a world in which talent recognizes no boundaries, and in which creativity and curiosity will fuel the future."
Harvard University was hit by the Great Recession
Harvard University's last campaign raised $2.6 billion, it was concluded in 1999. Since then, it has had to face the same financial challenges all higher education institutions have had to endure during the Great Recession.
During the Great Recession, Harvard "saw its endowment lose billions of dollars …. causing operating budgets to sink hundreds of millions into the red and forcing the rethinking of earlier University expansion plans in Allston."
In 2012, Harvard's endowment stood at $30.7 billion. Faust emphasized recently against viewing such funds as a "checking account" that can be freely drawn down.
The endowment is tied into a wide range of funds, literally thousands of them. Most of the funds are targeted at specific purposes, such as individual institutes, programs or named chairs. These funds need to be managed virtually forever. It means that only about 5% of the endowment money can be withdrawn in any given year.
According to Faust, the current capital campaign has been launched amid "seismic shifts" in the higher education landscape worldwide.
Financial uncertainty, a reality among higher education centers
Higher education in the USA, UK, Europe and many other parts of the world is facing financial uncertainty. The Great Recession led to governments having to re-prioritize spending, and public-funded university research suffered.
Universities are under growing pressure to spend more, as challenges to the global higher education landscape emerge. The explosion of online education prompted Harvard University to join with MIT (Massachusetts Institute of Technology) to launch edX, which provides online versions of classes at both universities – some classes are offered free-of-charge to students around the world.
The $6.5 billion Harvard University Capital Campaign is organized around:
Basic research
Financial aid
Global reach
Human capital
Innovation of all kinds
Liberal arts
Teaching and learning
The humanities
The physical spaces where all those things play out.
Faust said "The impatient future we face together summons us to reimagine how we teach and learn."
Harvard officials say that, of the Capital Campaign fundraising, proceeds will be divided up as follows (approximately):
45% – teaching and learning, research and faculty needs
25% – financial aid and the student experience
20% – buildings and capital projects
10% – flexible funding to encourage faculty collaboration and new initiatives
Harvard University officials have specifically mentioned the School of Engineering and Applied Sciences, Allston campus, edX (online learning), arts and the humanities, and basic research into the environment, neuroscience, stem cells and energy, as areas of top priority for funding.
Online learning, or e-learning, refers to studying via the Internet.
James Rothenberg, Harvard's treasurer, co-chair of the campaign, and member of the Harvard Corporation, said:
"The Harvard Campaign is critical to the University's ability to fund important priorities going forward, but it is also an opportunity to redefine Harvard and higher education more broadly. This is an exciting time for Harvard, and we are committed to ensuring that the University will continue to have a meaningful impact well beyond Cambridge."
Interview with Bill Gates
Microsoft founder, Bill Gates was interviewed, before Faust spoke, by David Rubenstein, founder of the Carlyle Group.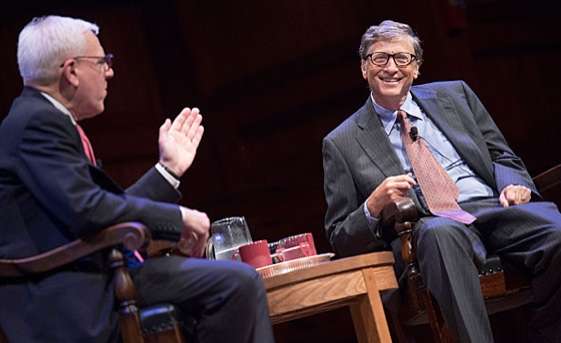 Gates admitted that the once-ubiquitous three-key combination to restart a computer – control-alt-delete – was a mistake.
Gates added that now, with the benefit of hindsight, he perhaps should have stayed on and completed his degree at Harvard. Opportunities in the software industry would still have been there if he had graduated.
Gates said "Though we thought we had to do it that day, a year wouldn't have made a difference."
Gates talked about his early days as an applied-math concentrator, his early years at Microsoft when free weekends and vacations eluded him, and his life after Microsoft as head of the Bill & Melinda Gates Foundation.
Gates also mentioned his early business experiences with Apple, his friendship with Warren Buffett, CEO of Berkshire Hathaway, and his love of bridge, which he still shares with Buffett. Gates also mentioned that Buffett donated billions to the Gates Foundation.
The Gates Foundation aims to eradicate polio by 2018, and significantly reduce the incidences of malaria and measles worldwide.
Gates said "Many of the problems we work on, it's amazing how little has been put into it.".