A heavy oil price war between Canada, Mexico and other Latin America producers is brewing over supplies to the US Gulf Coast refiners. Canadian supplies of heavy crude will nearly double to Gulf terminals to about 400,000 barrels per day in January when the new Seaway Twin pipeline becomes operational.
Traditionally, the big suppliers of crude to refineries along the Louisiana and Texas coasts have been Mexico and Venezuela. Now, another big player has entered the scene, Canada.
PeMex, Mexico's state-owned oil giant, further widened its discount to American buyers in December, this was after November's $3.70 per barrel discount for Maya crude in November.
Bloomberg News quoted Ed Morse, head of global commodities research at Citibank in New York, who said:
"Something's going to have to give. It's going to have to be combination of Latin American countries exporting less into the U.S. or Canadian crude being re-exported and competing with crudes in other markets, particularly Europe."
Canadian suppliers have also increased their discounts to such an extent that now Canadian and Maya crude will cost about the same in Houston after factoring in transportation costs.
Canadian shipments have risen considerably
A decade of rising oil prices has helped push up Canadian output. Shipments to the United States from Canada increased to a record 3.1 barrels per day in September 2013, which was 63% higher than in 2009.
If the Keystone XL eventually gets approval, the US will be awash with crude and prices will likely hit the floor. The $8 billion conduit is awaiting a decision by the Nebraska Supreme Court as well as a green light from President Barack Obama's administration.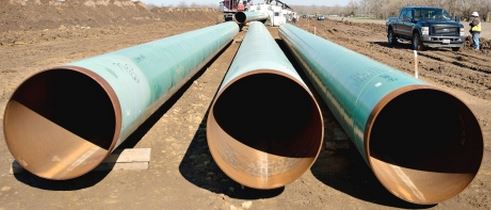 The installation of new pipelines has brought a new player (Canada) onto the Gulf Coast scene.
Canada's crude supplies to the US Midwest have also increased considerably, and are likely to continue growing with continued investments from Enbridge Inc. and TransCanada Corporation.
US refineries import much less crude today than they used to. Shipments from Venezuela fell from 900,000 barrels per day in 2012 to 700,000 at the end of 2014. Mexican exports over the same period fell from 853,000 barrels per day to 675,000. In June 2014, US refineries imported 4.3 million barrels of crude per day, the lowest amount in 22 years.
While the US does not allow most of its oil to be exported, crude that came in from abroad is exempt. If Canadian crude cannot be sold on the Gulf Coast, it will be re-exported elsewhere.
Mexico feels the effects of oil price fall
Mexican oil exports in November 2014 were 13.2% down (in value) compared to November 2013, according to the National Institute of Geography and Statistics (Inegi). Maya crude sold for an average of 71.6 dollars per barrel in November, which was $18.1 lower than in November last year.
In volume terms however, exports in November, at 1.23 million barrels per day, were higher than last year's 1.2 million.
The Mexican Institute of Finance Executives (IMEF) forecasts that oil prices will continue falling over the next few weeks. IMEF predicts prices will start recovering in the second half of 2015.
Mexican newspaper El Economista quoted IMEF as saying:
"However, this (oil price) recovery will not be spectacular and is unlikely to bring prices back to what they were before the recent decline. This means that oil-exporting countries, including Mexico, will need to make adjustments to face this new situation in the oil market." ("Pero esta recuperación no será espectacular y difícilmente se recuperarán los niveles del precio promedio observado hasta antes del inicio del actual ciclo de disminución. Esto significa que los países exportadores, México incluido, deberán hacer ajustes para enfrentar esta nueva situación del mercado petrolero.")