Honda Q1 operating profit jumped 7.1% to ¥198.04 billion ($1.94 billion) compared to Q1 last year, driven by strong sales of the new Fit in Japan, sales in some Asian markets, and cost cutting, the world's largest motorbike manufacturer and Japan's third biggest carmaker announced today.
Operating profit margin for its car business was just 4.3%.
Honda's share price fell 0.8% to ¥3,548 at the close in Tokyo today (before earnings results were announced). Its stock has declined by 18% so far this year, compared to an overall 4.1% fall in the Nikkei 225 Stock Average.
Executive Vice President Tetsuo Iwamura said profit would have been higher had the launch of the Acura TLX and Fit models not been delayed in North America. Possible defects in airbags have led to more than 3 million automobiles being recalled in the United States.
In Q1, Honda sold 1.06 million automobiles, and predicts total sales of 4.83 million for this fiscal year, compared to 4.32 million last year.
Unlike rivals Toyota and Nissan, Honda earns significant income from its motorcycle division. In Q1 it sold 4.14 million motorbikes, compared to 4.05 million in Q1 2013.
Improved outlook
The company's annual operating profit forecast for the year ending March 2015 increased marginally from ¥760 billion to ¥770 billion, based on a slightly weaker yen. It was the highest forecast since 2007.
Domestic sales were boosted by back-orders from a purchasing surge before the consumption tax hike that fell on April 1st. Sales in Indonesia, China and India were up thanks to model changes, the company added.
In 2013, Honda launched cars tailored specifically for the Indonesian, Indian and Chinese markets, in the hope that they may capture market share from Toyota and Volkswagen and reduce its reliance on the US sales.
Unlike its two Japanese rivals, Toyota and Nissan, sales in the United States declined, reflecting an increase in its average sales incentive per vehicle.
Honda China
In the *world's largest vehicle market, Honda's sales continued to make further gains on the last quarter and those achieved in 2013. Last year, sales reached record levels, driven by the Crider sedan and Jade wagon (Chinese market tailor-made models).
* (for Honda, the US is still its largest market.)
Toyota's Camry and Nissan's Taena have pushed down Accord sales in China. In February 2014, Honda introduced a cheaper (180,00 yuan/$29,000) stripped-down accord.
Honda predicts total sales for this financial year in China to reach 900,000 vehicles.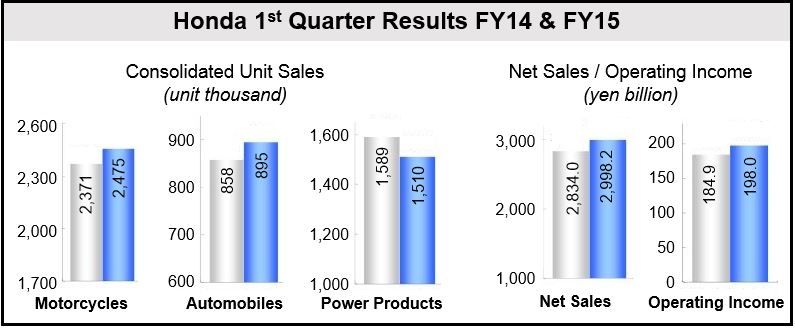 (Data source: Honda)
Honda Europe – smaller loss
Honda's operating loss in Europe was reduced to ¥1.49 million from ¥9.7 billion (loss) a year ago.
There are encouraging signs that the European economies are entering a period of growth.
In March, the company announced that it would halt two production lines at the Swindon factory in the United Kingdom during the Fall, as it does not anticipate any significant growth in the region for the next 24 to 36 months.