Having recovered over 201.9% of all jobs lost during the Great Recession, Houston is the powerhouse of America today, according to a new report.
Employment in Houston is higher than at any time in its 176-year history, says the Greater Houston Partnership (GHP). This is a higher percentage than any other major American metro area.
The Houston MSA (Metropolitan Statistical Area):
Lost 153,100 jobs in the Great Recession
Gained 309,100 jobs during the recovery
Houston is the fifth most populous MSA and the fourth most populous city in the United States.
It has outpaced America's ten largest metro areas, the report adds.
Among the top metros, only Boston (123.4%), Washington D.C. (144%) and Dallas (158.9%), along with Houston have managed to recover more jobs than the number lost during the Great Recession.
In 10 of 12 employment sectors, Houston has outpaced the rest of the country.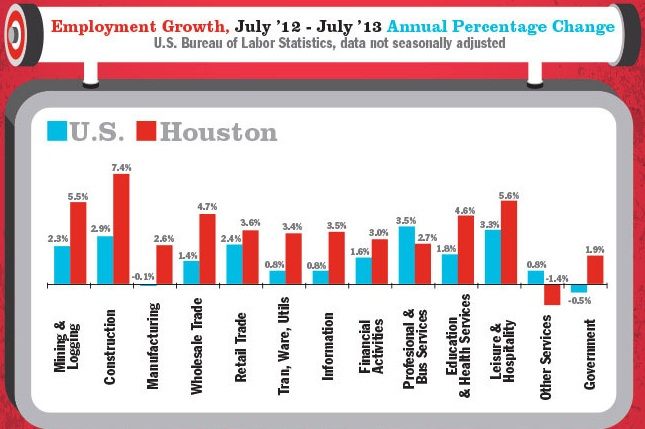 Houston has a diversified economy
Houston's diversified economy helps drive and sustain economic growth over the long-term.
With a broad network of research and development projects underway at The Texas Medical Center, and cutting edge technology in its energy industry, the city and its surrounding areas are well positioned to prosper into the future.
Houston exported $110 billion's worth of goods in 2012, making it the largest exporting metro in America, according to the U.S. International Trade Administration.
GHP President and CEO, Bob Harvey, said:
"Most amazing to me is not only the number of jobs created in the Houston region, but also the quality of the jobs that have been created. In addition to traditional growth industry sectors, our region has diversified its economy to encompass fields like manufacturing, technology and engineering. In fact, a full third of our jobs are concentrated in STEM-based fields."
According to Patrick Jankowski, GHPs VP of Research, "Any statistic you look at – gross domestic product, employment, population, housing, etc. – Houston leads the nation in economic growth."
This infographic contains a breakdown of why Houston is considered to be America's economic machine.