The world hoverboard record has been broken by Franky Zapata who managed to maintain flight for well over one mile, fifty metres high up in the air off the coast of Sausset-les-Pins, Bouches-du-Rhône department in the south of France, Guinness World Records reported this week.
The concept of a hoverboard, a skateboard that floats in the air while you stand on it, was first seen in the American science-fiction movie series – Back to the Future – starring Michael J. Fox and mad scientist Christopher Lloyd. Hoverboards today are no longer the stuff of science-fiction, they are quite real.
Franky Zapata is the new world record holder for the furthest non-stop flight using a hoverboard, says Guinness World Records. (Image: twitter.com/laemmelc)
World record smashed convincingly
Mr. Zapata, the French jet-ski champion, flew 2,252 metres (7,388 feet), smashing by far the previous record of 275.9 metres (905 ft 2 ins) set by Canadian inventor Catalin Alexandru Duru last year.
Mr. Zapata, 37, rose fifty metres above the surface for the record-breaking flight, trailed by a fleet of jet skis and boats. He piloted the Flyboard Air, a futuristic flying device developed by his own company, Zapata Racing.
---
---
Flyboard Air can reach a maximum altitude of 10,000 feet, he claims, with a top speed of 150 kilometres per hour (93 mph).
On hand to adjudicate on the attempt on 30th April 2016 was Sofia Grenache, who confirmed that the hoverboard had reached a historic distance and complied with the rules of the record.
Oh oh, j'ai crû voir passer un bouffon vert https://t.co/9VpljZ8Zgq @flyboardzapata pic.twitter.com/iGDyvoAx2r

— Jérôme Blanchart (@jeromeBT) 11 April 2016
His life's work
An ecstatic Mr. Zapata told reporters at a press conference after his successful attempt: "This has really been a life's work."
His company, Zapata racing, has developed several types of water-propelled devices, including the original Flyboard – a flying vehicle that connects to a personal watercraft turbine with a long hose.
---
---
The Flyboard Air has no hose, it uses an independent propulsion unit and can stay up in the air for up to ten minutes.
Zapata a former backflip record holder
Mr. Zapata had previously broken the world record for most backflips with a water jet pack in sixty seconds during an attempt for the CBBC TV show 'Officially Amazing' in 2014 at the L'Estaque in Marseille, France.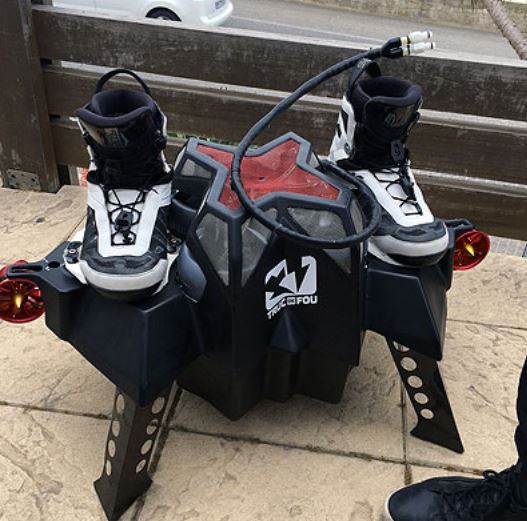 Mr. Zapata says the Flyboard Air is able to reach an altitude of 10,000 feet and fly at 93 mph (150 km/h). (Image: guinnessworldrecords.com)
His record of twenty-six backflips was beaten in August 2015 by Liu He of Beijing in China, who managed 27 flips.
Franky Zapata became famous as a jetski racer when he received the title of RUN F1 World Champion. After several years manufacturing jetskis, he invented the Flyboard in 2011. He said that through this invention, he managed to channel all his passions into one product.
Video – Zapata tests the Flyboard Air
This video of Mr. Zapata doing a test flight on his Flyboard Air was taken three weeks before he broke the world record. The device is still a prototype, he says, and won't be on the market this year.