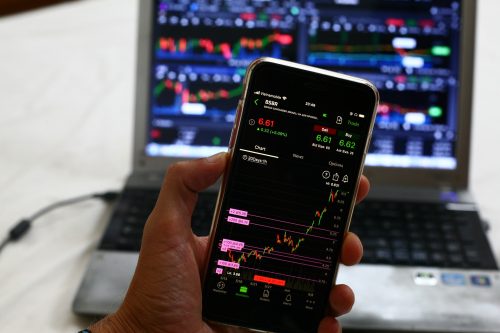 Traders, of course, are you familiar with the word "stocks" right? Currently, many people are interested in investing in stocks for investment purposes and even looking for profits from stocks trading activities.
We are certainly familiar with brands such as Facebook, Apple, Google, Alibaba, Amazon, Pfizer, Coca-Cola, Mcdonald's, Microsoft, etc.
So, instead of just being users of these brands, why don't we try to make a profit from these brands? How to? Of course, by trading stocks and buying and selling shares of the companies holding the brand.
What are stocks?
Stock is a unit of value or bookkeeping in various financial instruments that refers to the ownership share of a company. By issuing shares, companies that need long-term funding offer buyers a certain percentage of ownership in exchange for cash. By owning shares, it means that we have a part of the ownership of the company whose shares we buy, isn't that cool?
Then how do we trade shares? Currently, we are able to transact shares online. We can trade stocks online, without having to come to a stock exchange or brokerage firm like before. We can buy and sell shares whenever and wherever we are.
How to trade stocks?
The process of how to trade in stocks is the same process you follow when you want to trade any other financial asset. Here are the steps on how to trade stocks:
1. Opening a stock trading account
Choose a trading broker
Open a trading account
verify yourself
make the first deposit
2. Filter and research the stocks you want to buy
There are many stock options available for you to buy. For those of you novice stock investors, you can start by choosing stocks that you are familiar with and own. Don't buy stock from a company you've never heard of before. Remember, by buying shares, you are automatically the owner of the company.
3. Decide how much to invest in trading stocks
By determining the stock trading budget you use, it will be easier for you to calculate the profit you will get. Manage the funds you have as well as possible. Putting more than 10% of your portfolio into individual stocks can make your savings unhealthy. So, make sure you only invest the amount of money that you have calculated and is still within a reasonable limit if you lose it.
4. Select the type of order to be used
Before you decide to place an order online trading stocks, ask yourself which one, and why did you choose the stock? Once you know that, it's time for you to start observing and mastering the price action of the stock. For beginner stock investors, you should read the article "All you need to know about CFD stock trading" by FBS Trade analysts
5. Manage your stocks portfolio
One of the keys to making a profit in trading stocks is to manage your stock portfolio. With good stock portfolio management, we can choose when is the right time to buy stocks and know how to sell stocks well.
For those of you who want to trade stocks but are still beginners, the most important thing is to build a good trading mindset. Once again, what must be considered when trading stocks, do not just buy stocks that are not well known, and do not choose stocks that have small Capital Gains to collect in your stock portfolio management. Choose stocks that you really know and know their market value clearly to collect in your stock portfolio management. For those of you who want to learn the trading mindset and good management.
Stock trading tips
In order to make a profit in trading stocks, there are some tips that stock investors can do, including
1. Read references and economic news
In stock trading, economic news is an important factor in stock trading. News such as the company's financial statements, the current condition of the company, and the current sentiment in the market are important factors that can affect stock movements. The more information that is extracted and collected, the easier it is for you to predict future movements of your preferred stock
2. Choose stocks with large capitalization
The next easy way to invest in stocks is to pay attention to market capitalization, because it is closely related to liquidity. We really need a large market capitalization, so that the movement of the shares we invest in is truly liquid. In addition, choose stocks that have high volatility.
3. Learn the stocks to trade
If you decide to invest in individual stocks, be sure to use some financial analysis ratios to compare the company's performance with its competitors. It takes precision and caution in selecting individual stocks. Using extensive comparative analysis such as a heatmap can help ensure you add the best stocks to your portfolio.
4. Trade at the best time
In order to get the maximum profit in trading stocks, of course, you must know the best time to do it. And the best time for trading shares is in the first hour after opening or around 20.35 WIB to 21.30 WIB, and before the closing hour of trading at 02.00 WIB to 03.00 WIB. Why is that?
At the time of opening many large orders enter the market so that it can shift the stock price. And it can give you a hint of movement in one direction. Because you can follow the order flow from the institutional side and trade with the smart money flowing.
5. Decide what type of trading is right for you
Determining the type of trade is the same as determining the direction of the road to achieve your goals. There are two main types of stock trading, namely active trading and day trading. Active trades are trades that the investor makes 10 or more trades per month. Typically, they employ a strategy that relies heavily on market timing, trying to take advantage of short-term events to turn a profit in the coming weeks or months.
Day trading is a strategy used by investors who trade stocks by buying, selling and closing their positions of the same stock in a single trading day, The goal of day trading is to make a few dollars in the next few minutes, hours or days based on daily price fluctuations.
Conclusion
Online stock trading can be a profitable investment option for investors. In order not to choose the wrong stock, always take the time to read economic news and pay attention to the current market sentiment so that your stock portfolio does not confuse you later.
---
Interesting Related Article: "Stock Trading 101: 5 Pro Tips on Stock Trading"