HSBC has intensified a mortgage price war in the UK by launching a record-low 0.99% annual rate for borrowers who put down a 40% deposit in the purchase of a property.
The 0.99% mortgage deal represents a 2.95% discount off HSBC's 3.94 SVR (standard variable rate), which lasts for 24 months.
HSBC could, in theory, raise its SVR within the 24-month discount period, meaning the rate could go higher than 0.99%, but the mortgagee would still receive a rate of 2.95% below any new SVR rate for the first two years of the deal.
Borrowers who take out the 0.99% deal also have the option of making overpayments of up to 20% of the monthly mortgage repayments. Those wanting to repay more than this during the initial 24 months will be subject to early repayment charges.
Borrowers who prefer a fixed mortgage have the option of taking up HSBC's 1.49% rate, which is fixed for two years.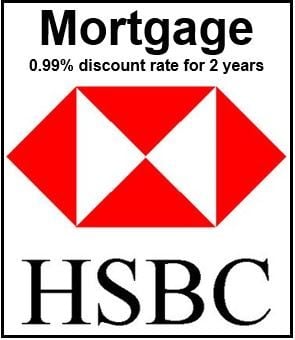 HSBC has sparked a mortgage war.
HSBC's head of mortgages, Peter Dockar, said:
"We know how important a low monthly payment is for borrowers, and are committed to offering market leading rates. We're the only bank to offer a completely paperless mortgage application and are now leading the way by offering a mortgage of less than 1%. Customers can apply for these rates online, over the phone, in branch or through a broker thanks to our new partnership with Countrywide."
Sylvia Waycot, Editor of Moneyfacts, said:
"It's great to see a mortgage offering a rate that, for once, allows consumers to keep more of their money in their own pockets each month, and this new deal from HSBC does just that."
Santander and Clydesdale Bank have both lowered their rates by 0.31 and 0.6 percentage points respectively.
Plummeting swap rates are increasing competition among lenders. The interest rate on 5-year swaps declined steeply to 1.47% from 1.63% on Wednesday. Their interest rates serve as an indicator of how rates will behave in the future.
Experts are now speculating that the Bank of England, will start raising its benchmark interest rate from the current record low of 0.5% in the second half of 2015, and not the first half any more. In September, inflation dropped to 1.2%, a 5-year record low, while wage growth remained extremely weak.
When rates do start rising they will push up borrowing costs. The base rate, however, is not linked directly to SVRs, which the banks themselves set.