Intel Corporation announced several technology advancements and initiatives at the International Consumer Electronics Show (CES) aimed at "accelerating computing into the next dimension". The company is to invest $300 million to encourage more diversity in Intel as well as the technology industry at large.
The giant semiconductor chip maker unveiled the Intel® Curie™ module, a tiny button-sized hardware for wearable solutions, as well as new applications for Intel® RealSense™ cameras spanning flying multi-copter drones, robots, and 3-D immersive experiences.
Intel's CEO Brian Krzanich said in a keynote address at the International CES in Las Vegas:
"The rise of new personal computing experiences, intelligent and connected devices, and the wearable revolution are redefining the relationship between consumers and technology. Our goal with Intel technology is to help solve real problems and enable experiences that are truly desired by people and businesses. In order to do this, we must also do more to lead the growth of diversity and inclusion within the technology industry."
"Women and under-represented minorities will continue to play a greater role as consumers, influencers, creators and leaders."
Intel® Curie™ module – button-sized prototype (Photo: Newsroom – Intel Corporation)
Mr. Krzanich also announced a wearable device collaboration with Oakley, the Californian-based maker of performance equipment and lifestyle pieces, and a 3-D collaboration with Hewlett-Packard. He outlined True Key™, a new Intel Security cross-platform application that utilizes personal features such as face, fingerprint or device to make logging in both safer and easier.
The Wearable Revolution
Intel says the explosion of wearable tech products is creating a new playing field for research and development.
Mr. Krzanich said the Inter Curie module is set to be shipped in the second half of 2015. It is a tiny hardware product based on Intel's first purpose-built SoC (system-on-chip) for wearable devices. The module includes the Intel® Quark™ SE SoC, Bluetooth radio, battery charging and sensors.
Since Mr. Krzanich revealed a number of wearable technology products last year, Intel has announced scores of multiple products and initiatives with different fitness, fashion and lifestyle brands, including SMS Audio, MICA, Luxottica Group, Fossil Group, Basis Peak, and the Intel "Make it Wearable" challenge.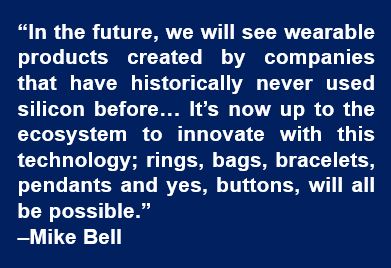 Mike Bell is vice president and general manager of Intel's New Devices Group.
Building on these initiatives, on Tuesday Oakley and Intel announced a strategic wearables collaboration. According to Intel "Oakley is the first Luxottica Group brand that Intel is working with to fuse premium, luxury and sports eyewear with smart technology."
Oakley's CEO, Colin Baden, joined Mr. Krzanich on stage and announced that the two companies are working on an intelligent product that aims to improve athletes' performance. It will be launched later this year.
Mr. Krzanich also described the first wearable camera that flies – the Nixie, which was the 2014 "Make it Wearable" challenge winner. The device rests on your wrist. When prompted it unfolds and flies to "take a perfect shot of you."
Intel also said it plans to achieve full representation of women and minorities within the firm by 2020. "Full representation means Intel's U.S. workforce will be more representative of the talent available in America, including more balanced representation in senior leadership positions," the company explained.
Intel will invest about $300 million to help build a pipeline of female and under-represented computer scientists and engineers.
Mr. Krzanich said:
"We're calling on our industry to again make the seemingly impossible possible by making a commitment to real change and clarity in our goals. Without a workforce that more closely mirrors the population, we are missing opportunities, including not understanding and designing for our own customers."
Video – Nixie, the wearable drone camera