A Japanese Australian trade deal has been agreed which includes lowering tariffs on the importation of key products, the governments of the two nations announced today.
Australia has agreed to reduce tariffs on Japanese white goods (refrigerators, freezers, washing machines…), cars and electronics, and Japan will lower tariffs on Australian beef as well as raising the duty-free quota on Australian cheese.
The deal is expected to be finalized at the end of 2014 when Japanese Prime Minister Shinzo Abe visits Australia. Tony Abbott, Australia's Prime Minister, is currently on an official visit to Japan.
First Japanese comprehensive economic partnership agreement
Mr. Abbott said:
"This is the first time that Japan has negotiated a comprehensive economic partnership agreement or free trade agreement with a major economy, particularly a major economy with a strong agricultural sector."
"I hope that thanks to this agreement that has been finalized today, that Australia can be pivotal to ensuring that in the years and decades to come, the people of Japan have energy security, resource security, and food security."
"Again, this will be good for Australia, good for Japan, good for our region and good for the world."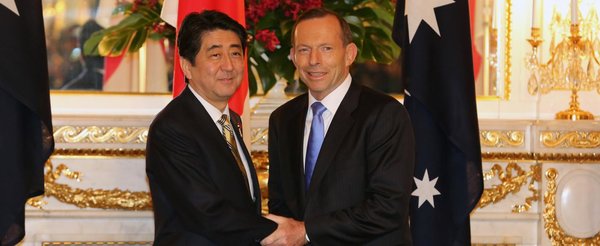 The US will now want a trade deal that places it on a level playing field with Australia.
Japan-Australia "a new special relationship"
Mr. Abe said:
"Australia is a strategic partner with whom we share universal values and strategic interests and in today's meeting, I have confirmed with Tony that we will elevate this strong bilateral relationship between our two countries to a new special relationship so that we can work on forging an even stronger partnership together."
"Firstly, in the field of economic relations, I am especially happy that we have reached a substantive agreement on our Japan-Australia EPA negotiations that began in 2007 when I was the Prime Minister."
"Japan-Australia EPA (Economic Partnership Agreement) is an extremely important framework for promoting trade and investment between our two countries and the substantive agreement we have achieved is historically significant in bringing the relationship between our two countries even closer."
Prelude to 12-nation Trans-Pacific Partnership
The deal comes ahead of the Trans-Pacific Partnership (TPP), a US-led plan for a 12-nation free trade pact. Earlier this year, Japan, the US and Australia reached an impasse regarding TPP negotiations. The US and Japan especially were unable to resolve differences on the issues of import tariffs.
Japan is protectionist regarding its beef, wheat, rice and pork and is not keen on reducing tariffs on agricultural products.
Both Japanese and Australian officials said today that their trade pact agreement today may help the TPP talks progress more rapidly.
In an interview with the BBC, Aurelia George Mulgan, a professor of Japanese politics at University of New South Wales said this latest Japanese Australian trade deal means "Australia gets preferential treatment over the US." She added that the United States will now be under pressure to agree to a deal that places it on a level playing field with Australia.
Mulgan added "Japan knows that America wants it on board, because TPP without Japan is not much worth all that much. Japan is playing hardball."
Video – Japanese Australian trade deal
Written by [google_authorship]