Will a Christine Lagarde negligence investigation allow the head of the International Monetary Fund to continue for the rest of her term, which ends in 2016?
Christine Lagarde, who had been Finance Minister when Nicolas Sarkozy was President of France, has been questioned many times regarding her role in a €420 million ($527 million) payout to Bernard Tapie, a businessman, in 2008.
In March, 2013, her apartment was searched.
She was questioned yesterday for 15 hours by the Court of Justice of the Republic.
Although she is being investigated in the corruption case, Ms. Lagarde has not been charged.
About Bernard Tapie
Mr. Tapie contributed financially to Mr. Sarkozy's 2007 presidential election campaign.
In 1993, he sold his majority shareholding in sports apparel company Adidas before entering President Francois Mitterand's Socialist government's cabinet in 1993. He was minister for less than a year.
Mr. Tapie alleged that Credit Lyonnais, the partly state-owned and now defunct bank, had deliberately undervalued Adidas in 1993, thus causing him to lose money in the 1993 sale of his shares. He sued the bank.
Ms. Lagarde later referred his case to an arbitration panel which awarded Mr. Tapie €420 million.
A favor to help Sarkozy?
The probe is trying to find out whether the multi-billion euro deal was reached in return for Tapie's support of Sarkozy's presidential campaign.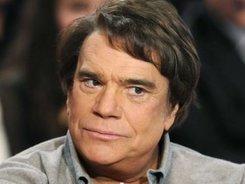 There is controversy in France about the way the authorities agreed to settle the case outside the courts.
Initially, the courts had strongly contested Mr. Tapie's complaint and seemed to be on the verge of finally winning the case after the country's Supreme Court ruled against Mr. Tapie.
According to a special prosecutor, Ms. Lagarde was wrong in setting up an arbitration panel to settle the case – a decision he described as an abuse of power.
Ms. Lagarde insisted she acted properly and legally
Being placed under formal investigation does not necessarily mean Ms. Lagarde will be facing a trial. However, it may put her tenure at the IMF, which ends in 2016, into question.
In an interview with Agence France-Presse (AFP), Ms. Lagarde said:
"I return back to Washington where I will indeed brief my board. I have instructed my lawyer (Yves Repiquet) to appeal this decision which I consider totally without merit."
She added that she has no intention of resigning.