A Lloyds Bank TSB sell off is set to occur before the end of June, George Culmer, Lloyds Finance Director announced in a conference call. As a condition of its £20.5 billion bailout in 2008/2009 by UK taxpayers, TSB (Trustee Savings Bank) must be sold.
The European Commission had ruled that the British government's bailout – buying a 43.6% stake in the group – counted as state aid and divestment was necessary (it had to be sold off).
Analysts have valued TSB at approximately £1.5 billion. Lloyds says some of the shares will be available to the public.
Lloyds, the UK's largest retail bank, had initially intended to sell TSB with its 632 branches to the Co-op Groups banking division. However, in 2013 the deal fell through and Lloyds decided to hive off some branches and revive TSB as a completely separate brand. Trustee Savings Bank and Lloyds Bank merged in 1995.
The Lloyds Banking Group wrote in a statement:
"Following the launch of TSB Bank in the second half of 2013, we have continued to prepare for an IPO of the TSB business. We are now well placed, subject to final regulatory approval and market conditions, to launch the IPO in the summer of this year."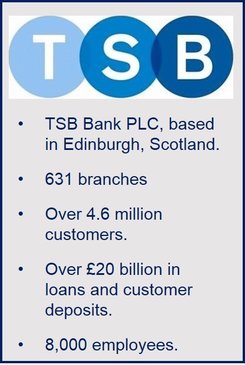 Lloyds Bank TSB sell off of 25% of the company
According to the António Horta-Osório, CEO of the Lloyds Banking Group, at least a 25% in TSB branches would be sold in the first IPO.
TSB is becoming a serious challenger to the other four UK high street banks – Royal Bank of Scotland, HSBC, Barclays and Lloyds – by paying an interest rate of 5% on balances up to £2,000.
Horta-Osório said Lloyds is focusing on becoming a more normal, low cost, low risk bank. He plans to start talks with the Bank of England's regulatory arm, the Prudential Regulation Authority, regarding the resumption of dividend payments to shareholders.
Since 2008, shareholders have not received dividends.
According to Culmer, Lloyds shareholders will probably not receive any dividend payments until May 2015.
Lloyds did not take a provision for payment protection insurance in Q1 2014. After taking a £9.8 billion hit for mis-selling the insurance product, it now has £2.3 billion left over.
UK government reducing Lloyds stake
The UK government has managed to sell two tranches of Lloyds stocks so far, reducing its shareholding to 25% in March 2014, compared to 39% in 2013.
In the first share sale the government sold off a 6% stake and raised £3.2 billion. In the second sale it raised £4.2 billion after selling a further 8% stake.
UK economic rebound helping bank's performance
Horta-Osório, who ended Lloyds' international operations to concentrate on the home (UK) market, said he thinks the UK's economic recovery is strengthening across the country. He added that at least four-fifths of all mortgages under the government's "Help-to-Buy" scheme were outside the south-east of England and London.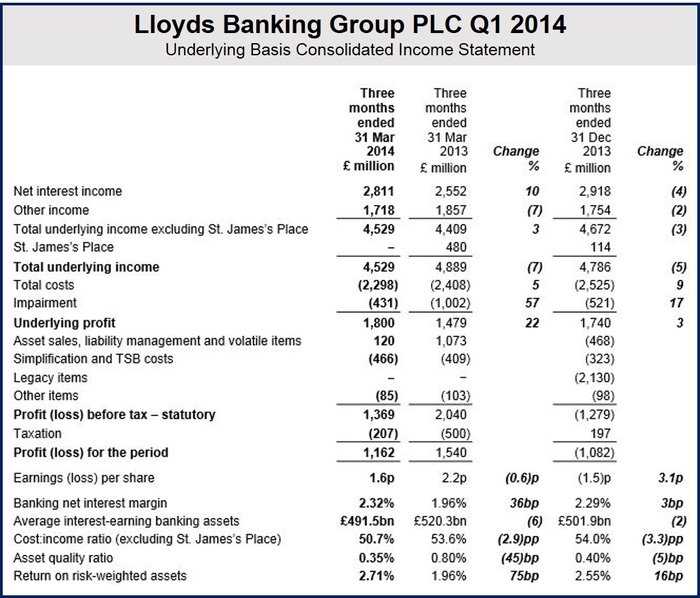 (Source: Lloyds Banking Group PLC)
Lloyds' pre-tax profits dropped to £1.4 billion in Q1 2014, compared to slightly over £2 billion in Q1 2013. The decline was mainly down to the end of the exceptional gains it has made over the last two years from the sale of UK government bonds.
Excluding this one-off profit, the bank reported a 22% increase in earnings to £1.8 billion.