Lloyd's of London returned to profit in the first half of 2018, after suffering heavy losses in 2017. The underlying numbers show signs of improvement, Lloyd's informs in an Interim Report. However, it says the result also highlights ongoing challenges. Lloyd's of London adds that it is actively addressing them.
Lloyd's of London is an insurance and reinsurance market located in London, UK. Unlike its rivals in the industry, it is not an insurance company. Rather, it is a corporate body governed by the Lloyd's Act 1781 and several other Acts of Parliament. Most people refer to it simply as 'Lloyd's.' It is the world's largest insurance and reinsurance marketplace.
Lloyd's of London profit first half 2018
For the first six months of 2018, Lloyd's of London's aggregated market profit was £0.588 billion. This compared with £1.216 billion for the same period in 2017.
The profit decrease was due to a comparatively low investment return of £0.2 billion. In the first six months of 2017, the investment return was £1.0 billion.
This relatively low return is consistent with what is occurring across most asset classes globally.
Last year, the insurer and reinsurer racked up a loss of £2 billion after losses from hurricanes. Major wildfires also contributed to the loss.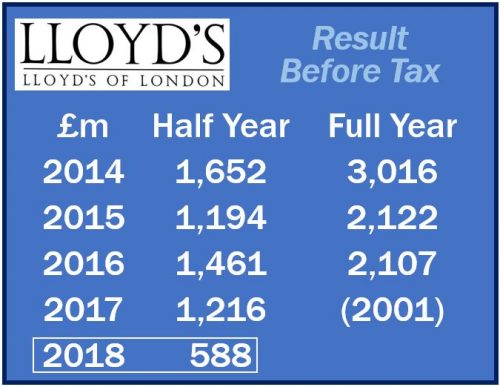 Capital position never so strong
Lloyd's of London describes its capital position as 'stronger than ever.' Net resources totalled £29 billion in June 2018. In June and December 2017, net resources had stood at £28.0 billion and £27.6 billion respectively.
Lloyd's of London has new CEO
Earlier this month, Lloyd's of London announced that it had appointed John Neal as its CEO. CEO stands for Chief Executive Officer. CEO is the highest active position in a company or organization. Mr. Neal will take up his position on 15th October 2018.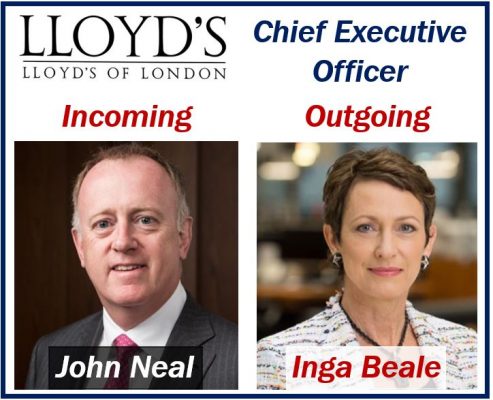 Chairman's comment
Regarding Mr. Neal's appointment, Chairman Bruce Carnegie-Brown said:
Bruce Carnegie-Brown, Chairman of Lloyd's of London, said:
"On behalf of the market, I am delighted to welcome John to Lloyd's. His wealth of experience both at Lloyd's and internationally, including the US, will bring new insights and fresh thinking at a challenging time for the global insurance industry."
"John will continue Lloyd's focus on delivering sustainable profitability, through a combination of underwriting discipline and market modernisation. An immediate priority will be the successful launch of Lloyd's Brussels subsidiary which will enable Lloyd's to continue serving its customers in the European Economic Area after Brexit."
"I am grateful to Inga for the leadership she has provided to Lloyd's over the past five years, during a challenging time for the market. She has driven the market's modernisation programme, the success of which is evident not least in the recent rapid increase in electronic placement volumes and the launch of the Lloyd's Lab."
Mr. Neal's comment
Commenting on his appointment, Mr. Neal added:
"I am thrilled to be offered the opportunity to lead Lloyd's, and will do so with the same excitement I felt when I first stepped into the underwriting room back in 1985."
"The insurance sector is facing many challenges. For 330 years the Lloyd's market has demonstrated its ability to innovate and adapt, and I look forward to playing my part to ensure this unique marketplace remains at the forefront of global commercial corporate and specialty insurance and reinsurance."
The Prudential Regulation Authority and the Financial Conduct Authority need to give the appointment their approval and consent.