Lloyds Banking Group posted a 7 percent drop in annual pre-tax profits, down to £1.6 billion from £1.7 billion the previous year.
However, despite a drop in profits, investors were pleased with a surprise £2 billion payout on top of news that the bank set aside a further £2.1bn in Q4 to cover payment protection insurance (PPI) compensation claims, bringing the total amount provided to £16.0 billion. Dividend payouts are supposed to reflect net profits.
Lloyds began paying out dividends last year after a six year break. The bank said that it will pay shareholders an ordinary dividend of 2.25p per share, in addition to a special dividend of 0.5p – representing a total payout to shareholders of approximately £2 billion.
The bank was able to increase the ordinary dividend and return surplus capital through a special dividend because of an increase in underlying profitability and returns and a strengthening of its capital position, in spite of additional PPI provisions reflecting the Financial Conduct Authority's (FCA) consultation on time barring.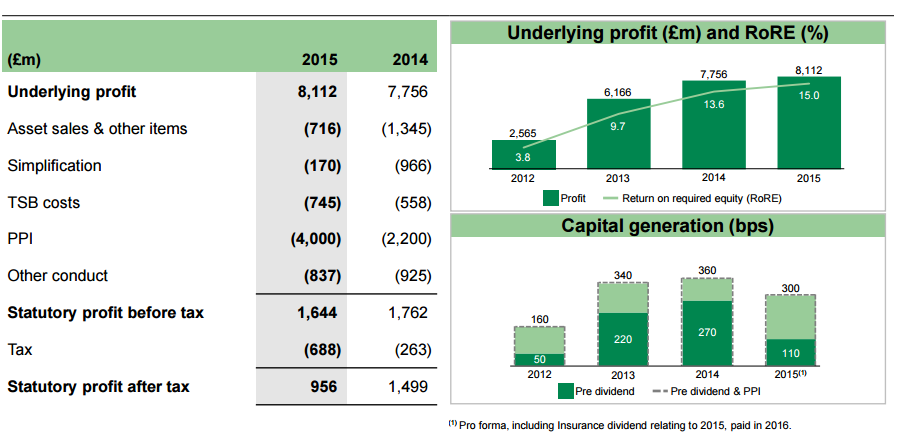 Shares in the bank closed 13% higher on Thursday after the results were made public.
The bank said that the volume of reactive PPI complaints has continued to fall, with an 8 per cent reduction in 2015 compared with 2014, to around 8,000 complaints per week.
Lloyds increased its common equity tier 1 (CET1) ratio to 13.0 per cent, after increased dividend payments.
---
---
António Horta-Osório, Group Chief Executive, commented on the bank's performance:
'We made a strong start in 2015 to the next phase of our strategy and have delivered a robust financial performance, enabling increased dividend payments.
"Our differentiated, UK focused, retail and commercial business model continues to deliver, with our financial strength, cost leadership and lower risk focus positioning us well in the face of current market uncertainty.
"We remain confident in our ability to become the best bank for customers and shareholders, while continuing to support the economy and helping Britain prosper."
Lloyds incurred a charge of £837 million relating to complaints about packaged bank accounts and "a number of other product rectifications primarily in retail, insurance and commercial banking".