The London Stock Exchange operating profit increased by 36% in fiscal Q1 2015 to £102 million compared to £74.8 million in Q1 last year. The LSE (London Stock Exchange) reported a more than twofold increase in IPOs in its stock markets in Italy and the UK.
Revenue rose by 20% overall and by 12% on an organic and constant currency basis. The LSE said nearly all its business segments reported growth.
Adjusted earnings per share (EPS) increased by 18% to 31.9 pence (Q1 last year 27 pence), while basic EPS was 19.2pence (Q1 last year 13.1 pence).
At the LSE, Q1 2015 means the three-month period ending on June 30, 2014.
Russell Investments acquisition
The LSE also announced that it plans to raise £938 million ($1.6 billion) to help finance the acquisition of Russell Investments, which owns the Russell 2000 stock market index.
Russell Investments, a subsidiary of Seattle-based Northwestern Mutual, provides investment consulting and a range of other financial services to institutional investors as well as individuals through a network of partners. It has approximately $256 billion in assets under management.
In June, 2014, LSE and Russell agreed on a $2.7 billion cash acquisition deal.
LSE shareholders will meet on September 10 to consider the Russell Investments transaction. If it is not voted through, the group says it will return the proceeds of its rights to stockholders.
(Data source: London Stock Exchange Group plc)
Good quarter for IPOs
Fiscal Q1 in LSE's primary markets business (IPOs) rose by 30% to £25.3 million. There were 78 new offerings in the quarter at its British and Italian markets, compared to 33 in Q1 2014.
The IPOs raised £19.9 billion in the first quarter of this fiscal year.
The company said that in July there were 28 new issues in its UK and Italian markets, compared to 25 in July 2013. A total of £5.2 billion was raised in July. So far, just in historically quiet August, there have been 7 IPOs.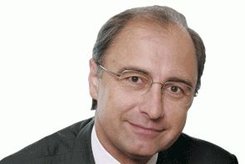 London Stock Exchange Group CEO, Xavier Rolet, said:
"We continue to make good progress, delivering a strong financial performance this quarter with an increase in operating profit, reflecting organic growth and inorganic revenues across the Group."
"We have seen a resurgence in the IPO market with an increase in both the number of companies joining our markets and the amount of money raised. While the summer period is seasonally slower, our diversified business is very well positioned for further growth."
Mr. Rolet said the takeover of Russell Investments will help expand LSE's global footprint, especially in the key US market. The acquisition will help speed up development in one of the company's core strengths – intellectual property – and offers considerable growth potential, he added.