Ben Broadbent, deputy governor of the Bank of England, believes low pay growth in the UK is here to stay, and warns British workers they may face long-term lower wage rises compared to what they used to get before the global financial crisis.
For decades, British wages increased each year, either at or slightly above the annual inflation rate.
It is likely that this growth trend has "shifted downward", Mr. Broadbent said in a speech to economists and central bankers at the Jackson Hole Conference in Wyoming, US.
Productivity standing still
He explained that since the crisis, labor productivity in the UK has stagnated.
Only twice (in real terms), have British wages managed to keep up with inflation during the last five years. The UK has moved away from the "established norm of real pay increases."
The persistent below-inflation wage hikes partly explain why the members of the MPC (Monetary Policy Committee) of the BoE (Bank of England) were so wrong in their unemployment forecasts, Mr. Broadbent said.
The BoE had expected it would take much longer for the unemployment rate to fall below 7%, at which point the MPC had assumed that productivity would increase rapidly.
2-year prediction took 8 months
The BoE last in August 2013 had expected it would take two years for unemployment to fall below 7% – it took just eight months. Wage hikes have consistently been below BoE expectations.
In January, 2014, Mr. Broadbent had predicted real wage growth for the UK.
During the first seven months of 2014, pay growth has been nearly two percentage points below the country's long-term average, Mr. Broadbent pointed out.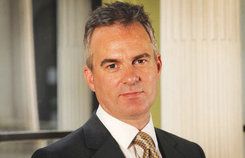 BoE Governor Mark Carney at the banks' last Inflation Report indicated that the MPC is now focusing more on wages and giving it greater importance when deciding on monetary policy.
MPC split in interest rates
Last Wednesday, the MPC met to decide on the Bank's base rate (which has remained unchanged at a historical low).
Of the seven members, two voted for an increase. This is the first time there has not been a unanimous vote in more than three years.
The decision to postpone an increase in interest rates is because "pay growth has been much weaker (than we had expected)", even though employment has grown faster than forecast, Mr. Broadbent said.
Towards the end of his speech, Mr. Broadbent indicated that he may soon be inclined to vote for an interest rate rise.
Mr. Broadbent concluded:
"It would be nice to live in a simple, stationary world, in which unchanging objectives meant unchanging operational rules for policy."
"It would be nicer still if potential output in particular always moved in a predictable fashion. In the meantime, we have little option but to say what central bankers have always said, that meeting the inflation target depends on a 'range of indicators'."