Marks & Spencer is in trouble again, the British multinational retailing giant is expected to announce the shutdown up to thirty stores within the next couple of weeks as it attempts to turn around its fortunes.
Struggling outlets in towns where sales have been poor, as well as those in shopping malls will probably be the company's main targets for closure.
Retail experts say that the London-based retailer will have to cut thousands of jobs, and close, relocate or downsize several stores if it is serious about surviving in today's cut-throat and rapidly-changing market.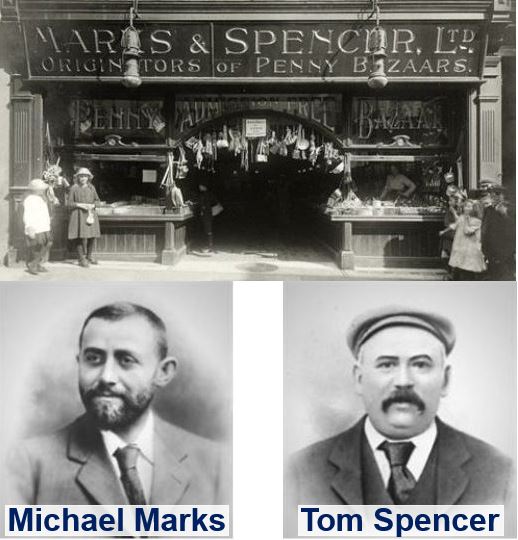 Marks & Spencer was founded by Michael Marks and Thomas Spencer in Leeds in 1884. In that year, Mr. Marks used the first of the company's many slogans: 'Don't ask the price, it's a penny.' When it was 130 years old, the company had more than 900 shops across the UK, employed 78,000 people, and was the country's largest womenswear and lingerie seller. (Image: shops2b.co.uk)
Clothes to make way for food
Shopfloor areas that bring in less money per square foot – such as clothing – are expected to make way for more lucrative goods. All bets are on Marks & Spencer's food halls taking up a higher percentage of total floor space over the next few years.
Marks & Spencer's new boss, Steve Rowe, who has been CEO since April this year, after being head of the company's food business, is to announce the radical shake up next week, according to Sky News City Editor Mark Kleinman.
---
---
Mr. Rowe told Sky News that he would make the announcement regarding restructuring next week. He added that apart from shifting more floor space from clothes to food, he also plans to shut down several stores.
Sky News quoted unnamed sources who informed that the closures will occur over a period of several years, and would number 'in the low dozens'.
Moving more shopfloor space from clothing to food probably means that a large number of Marks & Spencer stores will only be selling food. This is a massive turnaround since it first started operating in 1884.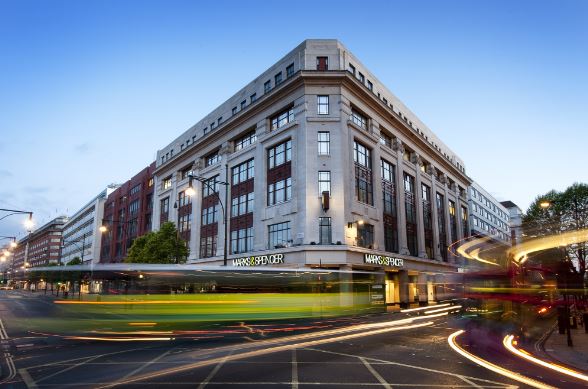 Marks and Spencer has its flagship store at Marble Arch, Oxford Street, London. It is its largest store and has about 170,000 square feet (16,000 square metres) of shop floor. (Image: retail-week.com)
It was not until 1984 that the retail chain began selling food. In 2009, it began selling branded products like Kellogg's Corn Flakes.
Since taking over from the previous CEO, Marc Bolland, Mr. Rowe says he aims to cut more than 500 jobs at its head office at Waterside House in the new Paddington Basin in London.
---
---
Marks & Spencer scaling back abroad
According to an article in Bloomberg Pursuits written by Sam Chambers and David Hellier, Marks & Spencer plans to shut down its flagship Paris department store on the Champs-Elysees. The closure is expected to be announced on November 8th, when Mr. Rower updates his investors on the company's international business.
When previous CEO Marc Bolland joined the company in 2010, one of the first things he did was open the 15,000 square foot (1,400 square metre) Paris store.
Some 'Key Facts' about Marks and Spencer during the 53 weeks ending 2 April, 2016. (Image: adapted from corporate.marksandspencer.com)
Bloomberg quoted Richard, Hyman, an independent retail analyst, who said:
"The Champs Elysees store cost them a fortune and was opened as part of an ego trip. Steve Rowe is a very down to earth and pragmatic guy. He's made it clear there are no sacred cows at M&S."
The retailer, which has already scrapped plans to open a store in Amsterdam, will probably pull out of its many ventures in China, experts predict.
After the British electorate voted for Brexit on 23rd June, the pound sterling has devalued by more than 15%, and does not look like making a recovery any time soon. This will fuel inflation, something that has prompted warnings from competitors including Neext. When Mr. Rowe meets his shareholders next week, he is expected to talk about sterling's weakness and the spectre of looming inflation.