NASA released some spectacular Martian spider images on 10th January – the day it was announced that the world-famous British singer, songwriter, multi-instrumentalist, and record producer, David Bowie, had died.
The images were not of the creepy-crawly types, but enormous, beautiful terrains that NASA says are called spiders, starburst spiders or more formally 'radial troughs'. They are caused by the thawing of CO2 (carbon dioxide) ice, and are referred to as spiders or starburst spiders because of their shape.
David Bowie's fifth studio album, released in 1972, was called Rise and Fall of Ziggy Stardust and the Spiders from Mars, which is usually shortened to Ziggy Stardust, his alter ego. The album tells the story of how a rock star – Ziggy Stardust – acts as a messenger for aliens.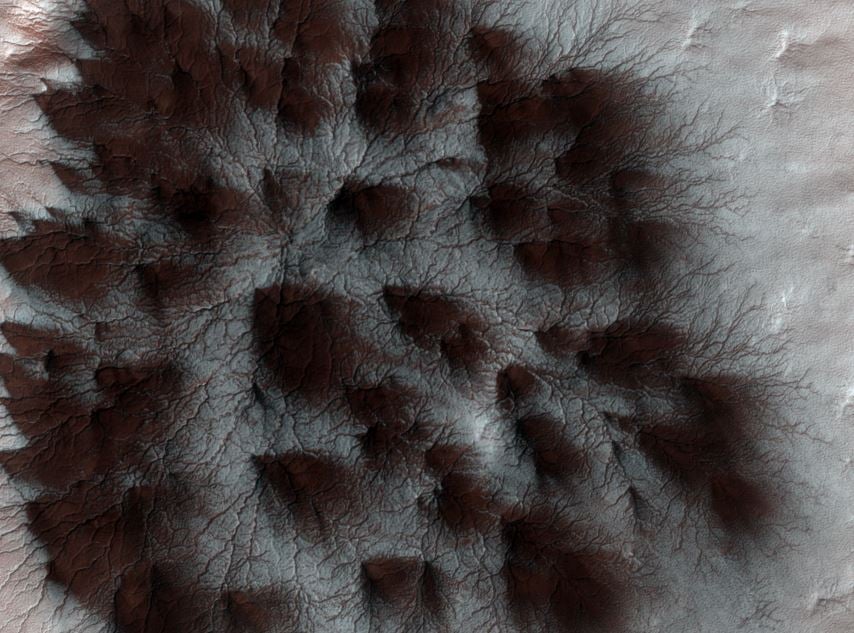 These radial troughs that appear on the surface of Mars are also known as starburst spiders. (Image: nasa.gov)
Spiders formed when gas came up from under ice
Mars has a seasonal cap of CO2, which has eroded many beautiful terrains as it converts directly from ice to vapour (sublimates) every spring.
In the region where the HiRISE (High Resolution Imaging Science Experiment) camera on NASA's Mars Reconnaissance Orbiter took this photograph, you can see troughs that form a starburst pattern.
---
---
These radial troughs, NASA says, are commonly called spiders, because of their arachnid-type shape. In this region, the pattern has a more dendritic appearance (with a branched form resembling a tree) – there are channels which branch out several times as they get further from the centre.
Astrogeologists (geologist specializing in other planets) believe these spiders are formed by gas flowing underneath the seasonal ice to openings where it escapes, carrying with it dust from the surface below. The dust settles on top of the ice in fan-shaped deposits.

Major Tim Peake, aboard the International Space Station, paid tribute to David Bowie. (Image: twitter.com/astro_timpeake)
This picture, which covers an area of approximately 1 kilometre (0.6 mile), is a portion of the HiRISE Observation catalogues as ESP_011842_0980. It was taken on 4th February, 2009.
Scientists, astronomers, astrophysicists and astronauts across the world – and also those currently in space – paid tribute to David Bowie.
British astronaut, Major Tim Peake, who is currently aboard the International Space Station orbiting Earth, tweeted the following when he heard about Mr. Bowie's death: "Saddened to hear David Bowie has lost his battle with cancer – his music was an inspiration to many."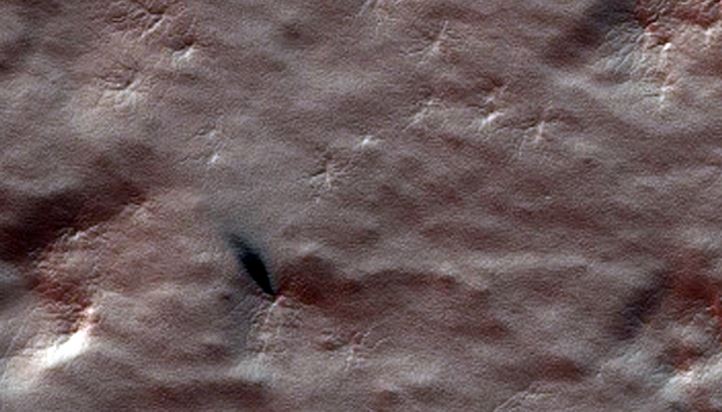 Starburst Spiders on Mars (radial troughs). (Image: hirise.lpl.arizona.edu)
NASA Launched David Bowie Concept Mission in 2010
In February 2010, NASA launched its shuttle Moonage Daydream, marking the beginning of a two-week conceptual mission inspired by David Bowie.
According to NASA administrator Maj. Gen. Charles F. Bolden, Jr., the experimental glam space program – dubbed Project Starman – had been in development for five years. Though engineers initially wondered whether the mission might 'blow our minds,' the historic launch ultimately proceeded without incident.
Maj. Gen. Bolden, added later that Bowie's Ziggy Stardust period and other outer-space related work had been a major influence on NASA's direction ever since the early 1970s.
Maj Gen. Bolden said:
"Admittedly, this is a very bold and risky departure for the agency. Those familiar with NASA's previous, more conventional research and exploration sensibilities are going to be in for quite a shock. Many are likely to be confused and threatened by the boundary-pushing nature of the project. This mission certainly isn't for everyone."
Video – David Bowie – The rise and fall of ziggy stardust
Full name of the album is 'The Rise and Fall of Ziggy Stardust and the Spiders from Mars'. It has been consistently considered one of the greatest albums of all time. Rolling Stone magazine ranks it the 35th greatest ever.