A play about Motown legend Marvin Gaye, from his birth to when he died, will have its world's premiere in Northampton, in the East Midlands of England, in May 2016. Born Marvin Pentz Gay Jr (1939-1984), he was an American soul singer, songwriter and musician who helped shape the sound of Motown in the 1960's. He had a string of hits, including How Sweet It Is, I Heard It Through The Grapevine, Let's Get It On, and Sexual Healing.
Roy Williams' Soul will open next year after close collaboration of several years with members of Marvin Gaye's family.
The BBC quoted James Dacre, artistic director at the Royal and Derngate theatre, as saying:
"It's a dramatic thriller, not a musical. It will have the spirit and energy of Motown and will include music from the time."
Marvin Gaye was a soul songwriter-singer with Motown in the 1960s and 1970s. He produced his own records and often addressed controversial themes. (Image: biography.com)
The play will be set inside the confines of Gaye's home in Los Angeles that he purchased for his extended family.
What happened in the house in the course of 18 days?
Mr. Dacre added:
"Whilst the piece looks at three generations of a post-war African American family, everything roots back to the home and what happened in the course of 18 days underneath that roof."
---
---
"It's a story that the world knows very well, but we hope that Roy's close access to so many of the people who were there gives him a unique perspective and will allow our audiences an unusual insight to what happened."
In the 1970s, Gaye became one of the first Motown artists to escape from the clutches of the production company.
Marvin Gaye was fatally shot by his father
Marvin Gaye Senior (his father) fatally shot Marvin Gaye in 1984 while he was talking to his mother at their house in West Adams district in Los Angeles. The first bullet entered his heart, and the second (at point blank range) his left shoulder. The first shot proved to be fatal.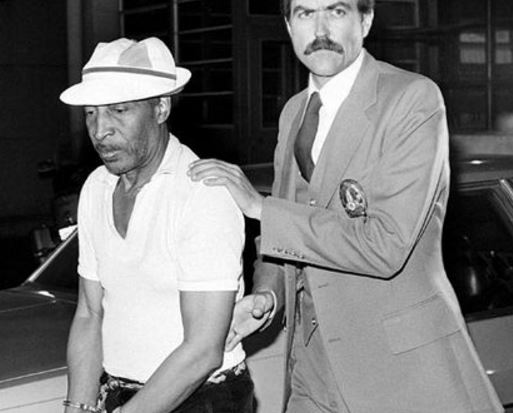 Marvin Gaye Senior in handcuffs with a Los Angeles homicide detective in 1984 after the fatal shooting.
Since then, several institutions have posthumously bestowed the musician with awards and other honours, including the Roll Hall of Fame, the Rhythm and Blues Music Hall of Fame, and the Grammy Lifetime Achievement Award.
Gaye has been called 'The number-one purveyor of soul music.' Michael Eric Dyson described Gaye in his book – Mercy Mercy Me: The Art, Loves and Demons of Marvin Gaye – as somebody "who transcended the boundaries of rhythm and blues as no other performer had done before."
After he died, the New York Times described Gaye as somebody who "blended the soul music of the urban scene with the beat of the old-time gospel singer and became an influential force in pop music."
Video – Marvin Gaye biography