Menzies Aviation, part of John Menzies plc, issued a profit warning and added that Craig Smyth, the aviation unit's managing director, would be leaving the Board immediately.
The news sent shares in one of Scotland's largest companies plunging 20%.
Mr. Smyth had resigned in August 2014, but the date of his departure was not announced until today.
Menzies Aviation, a provider of passenger, ramp and cargo handling services worldwide, has seen business decline after losing some British Airways business at Heathrow airport, as well as disappointing cargo returns in Australia and contract losses in Colombia.
The redevelopment of Heathrow airport has resulted in more airlines changing their ground handling contracts.
In a statement on Wednesday, John Menzies said:
"Updating on the situation on Wednesday, John Menzies said: "As previously communicated, in the UK we are managing a number of challenges. The significant changes at Heathrow have substantially reduced margins which will continue into next year and to address this situation the UK leadership team has been changed."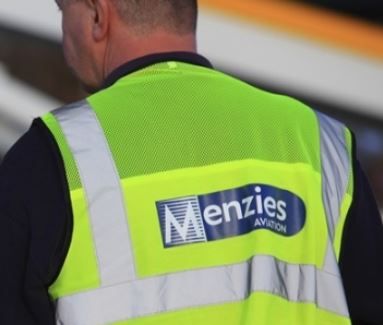 Menzies Aviation has lost a lot of business at Heathrow airport.
According to John Menzies plc, these losses will affect its aviation unit's results next year. This is not good news for a firm whose other division – magazine and newspaper distributor Menzies Distribution – is suffering from declining demand.
The company said that on a constant currency basis, income from aviation grew by 8% during the three-month period ending on October 31st, aided by new contracts in North America, including a 5-year deal with KLM-Air France in Canada, plus other agreements signed with United Airlines in Denver and WestJet in Toronto.
Menzies Aviation has more than 500 customers globally, including Flybe, Cathay Pacific, British Airways and easyJet. It handles more than one million flights and 1.5 tonnes of cargo annually.
Although a contract with Delta Airlines in Detroit that started in the first half of 2014 was generating a lot of work, revenue was low because of the types of aircraft being handled.