Mexico car exports to the United States will soon replace Japan for second place, according to IHS Automotive.
Currently, Canada is the largest car exporter to the United States, followed by Japan. Mexico is expected to hit top spot at the end of 2015.
On Friday, Honda opened a $889.53 million Honda factory in Celaya, a town in the state of Guanajuato. The plant will produce approximately 200,000 Fit hatchbacks annually, raising Mexican car exports to the United States to 1.7 million this year, about 200,000 more than Japan.
Honda de México, S.A. de C.V. celebrated with an event attended by the country's president, Enrique Peña Nieto, and Honda Motor Co. Ltd. President Takanobu Ito.
The Celaya factory raises Honda's North American productive capacity to 1.92 million vehicles. Over 90% of all Honda and Acura cars sold in the United States were manufactured in North America. When the Celaya factory reaches full capacity the figure should increase to 95%.
The Celaya plant project started in 2012 and will employ 3,200 workers. Later this year it will start producing the all-new compact SUV.
Mr Ito said:
"Our new plant in Mexico is based on the Honda Company Principle of maintaining a global viewpoint to supply products of the highest quality, yet at a reasonable price, for worldwide customer satisfaction. In Celaya, we can see these core values in action, with a commitment to the highest quality and efficiency and a focus on creating joy for our customers."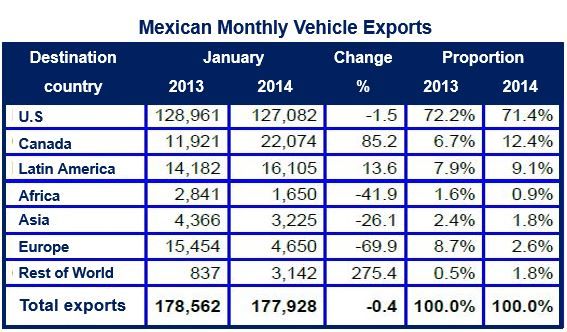 (Source: AMIA)
Mexico car exports set for top spot by the end of 2015
When the Honda Celaya plant is in full production, Mexico is expected to overtake Canada for top spot by the end of next year as the largest exporter of cars to the US.
Eduardo Solis, president of the Mexican Automotive Industry Association (AMIA – Asociación Mexicana de la Industria Automotriz, A.C.), said "It's a safe bet, Mexico is now one of the major global players in car manufacturing."
Mexico is an ideal location for many car manufacturers. It belongs to NAFTA (North American Free Trade Agreement), wages are relatively low, it is next door to the US.
Since the Great Recession, international carmakers have been attracted to Mexico as a place for production, especially with increasing shipping and energy prices.
The average pay of Mexico's nearly 600,000 car plant workers is approximately $16 per day, about one fifth of what their US counterparts are paid.
A growing number of Mexicans are expressing concern about the exploitation of unfair conditions by multinational companies.
According to AMIA, Mexico started in January 2014 with 85,504 cars being produced, a 1.5% increase compared to January 2013. However, car exports dropped 0.4% over the same period with 177,928 units shipped abroad.