It has been three years since Microsoft launched its first generation "Surface" tablet computer. Initially the company's products in the tablet market did not sell nearly as well as its competitors.
In fact, the tech giant took a loss the first two two years that the devices went on sale.
However, Microsoft has managed to gain some ground in the tablet market when it released its Surface 3 last year.
The third generation tablet proved to be very popular and the number of units sold shows that Microsoft has managed to become a big player in a segment once dominated by Apple and Samsung.
Thanks to the massive success of Microsoft with its Surface Pro 3 the company is likely going to unveil its successor, the Surface Pro 4, fairly soon.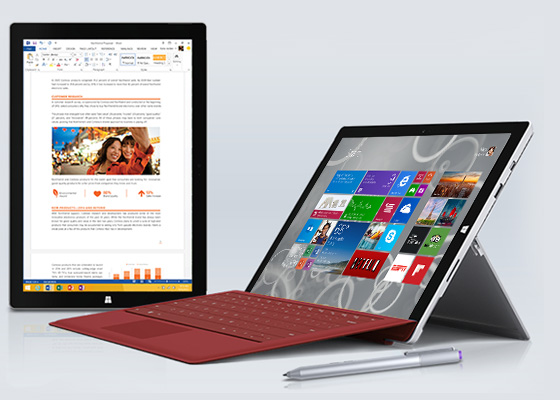 Microsoft's Surface Pro 3 was the company's first real big hit in the tablet market.
No official announcement yet, but rumors are mounting 
There has been no official announcement yet issued by Microsoft about the release date, specifications, design and price of the upcoming Surface Pro 4. Until the company official unveils the product, which will likely happen at Microsoft's April Build Developer Conference, people can only speculate what will be in store.
A PC Pro report believes that Microsoft will choose a release date for its Surface Pro 4 between June and October of 2015.
The reason why this would make sense for the company is that it would be "an extended window to launch it alongside the consumer version of Windows 10's."
In terms of specifications, the report says that the 12-inch version could come with a 2160 x 1440 screen, an Intel Core M Broadwell chip, and 16 GB RAM.
The design of the upcoming tablet is expected to be slightly slimmer than the Surface Pro 3, and similarly made for use with a stylus.
However, there's one rumour out there that, if true, would completely set the new Surface apart from previous releases, and that's the possibility of the upcoming tablet being offered in different sizes.
The possibility of Microsoft launching a mini tablet is very real
There are also rumours that Microsoft is set on launching an an eight-inch mini version of its Surface Pro 4 to compete directly with Apple's iPad Mini, Samsung's Galaxy Tab series, and Google's Nexus 9.
"If the rumored Surface Pro 4 "mini" does exist, it's expected to have an Intel Atom 64-bit processor under the hood," said PC Pro's Vaughn Highfield.
He added:
"Little is known about these processors – which go by the name of "Cherry Trail" – other than they're focused on boosting battery life, graphics, and performance, allowing low-end tablets handle more demanding tasks like playing, recording and editing high-end video."