Most people believe that by raising the minimum wage crime rates would go down, but this appears to be a myth.
Researchers at the University of Cincinnati criminal justice program and Texas Public Policy Foundation found that a higher minimum wage has no significant effect on violent crime or property crime rates.
Even when looking at a higher minimum wage over time, there was no discernible reduction in the crime rates.
The three researchers, Derek Cohen, Jay Kennedy and Scott Dannemiller are to present their findings at the American Society of Criminology's 69th annual meeting, Atlanta, Georgia, on November 21st.
The research team gathered and examined official US crime and economic data from 1977 to 2012 and compared property crime and violent crime rates in states that just complied with the national minimum wage standards, and 18 states that had on at least one occasion raised their minimum wages above the federal mandate.
They collected economic data from the US Department of Labor and the Consumer Price Index, and crime data from the Unified Crime Reporting program of the FBI which has information on crime throughout the country.
Cohen, Kennedy and Dannemiller also factored in the Consumer Price Index because this would show people's purchasing power.
Minimum wage had no long-term effect on crime rates
Cohen said:
"We were looking at whether we could see a crime trend that moved over time in regard to what we call 'shocks,' changes in policy. These shocks impart change, so if there's a trend, the rate-of-change-of-crime should increase or decrease, but ultimately, among the 18 states that had raised the minimum wage, there was no significant change – in this speculation – a drop, in violent crime and property crime."
If raising the minimum wage is meant to impart a change in crime rates, we should have seen a more pronounced deterrent from crime."
Cohen added that he and his colleagues saw the same pattern in the other states that had complied with just the federal minimum wage-set salary. They did not identify any discernible effect of any sort from a minimum wage policy on crime rates.
The team used a technique called ARIMA (autoregressive integrated-moving average), a method of econometric time series analysis, to analyze the large aggregate datasets. ARIMA made it possible for the researchers to pinpoint variations between states that had increased the minimum wage beyond what was federally mandated, and those that did not.
Crime is primarily an individual-level phenomenon
The research team concluded that fundamentally crime is an individual-level phenomenon and that state-level increases on minimum pay have insignificant effects on crime rates.
Cohen, Kennedy and Dannemiller wrote:
"Minimum wage legislation is divisively political; theoretically, a pure, strong- to strictly-causal model also is impossible."
Cohen added:
"Very few researchers are examining this issue from a macro level. It's a macro level issue that is being thrust into public policy, often under claims of crime prevention, without the justification to do so."
The following states raised the minimum wage above the national mandate: Alaska, Arizona, California, Colorado, Connecticut, Florida, Illinois, Maine , Massachusetts, Michigan, Missouri, Montana, Nevada, New Mexico, Oregon, Rhode Island, Vermont and Washington.
Minimum wage in developed nations – 2011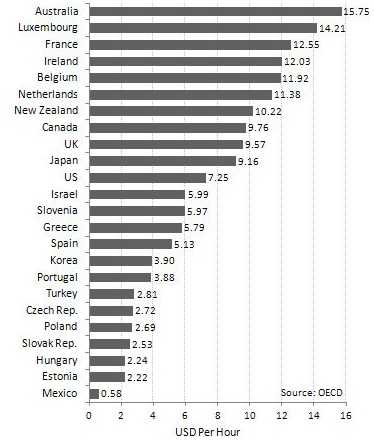 Whether a minimum wage is good or bad for a country's economy or society has been a source of controversy for many decades.
In favor – people who support a nationwide minimum wage say it improves the standard of living of the working class, minimizes poverty, addresses inequality, enhances morale and serves as a trigger to make companies more efficient.
Against – critics say the minimum wage exacerbates poverty, makes it harder for businesses, especially small ones to take on more people (especially low-productivity workers), thus increasing unemployment among low-paid and low-skilled workers, and is damaging to businesses.
Video – Abolish the minimum wage, yes or no? Debate
The minimum wage has existed for 75 years in the United States, ever since President Franklin D. Roosevelt signed it into law in 1938. The minimum wage was set at 25 cents ($4.07 in today's money). After three-quarters of a century, experts are still debating whether having a minimum wage has been good for America.