The best news so far this year for the notebook PC market has been sequential growth in the third quarter.
However, the year-on-year figures are likely to show a plunge as the market shrinks for the second year running.
This revelation comes in a new PC Dynamics Market Brief from IHS Inc, published this week, which examines mobile PC shipments worldwide and estimates they have reached 47.9 million units in the third quarter, which is 6% more than in the second quarter.
Craig Stice, Senior Principal Analyst covering Compute Platforms for IHS, says:
"Amid the onslaught of tablets, the notebook PC market now is desperately seeking any reason for optimism – and the sequential growth in the third quarter is offering a ray of hope."
This growth is the largest quarter on quarter sequential growth since two years ago, when quarter 3 of 2001 saw a 7% growth on quarter 2 (see figure).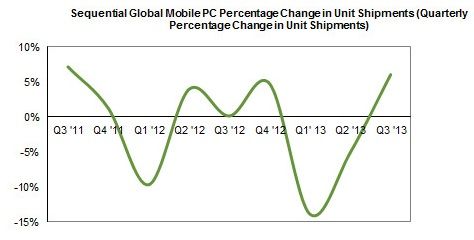 However, the year-on-year figures, starting from the second quarter of 2012, show the notebook PC market is shrinking: this 5th quarter of decline is 9% lower than the same time last year – the second worst drop after the steep 14% loss of the previous quarter.
Stice says that even with this apparent brief recovery from the previous sequential decline, and "a few other hopeful developments," it looks like the notebook PC market is set to continue its decline for 2013.
The notebook market is going to contract for a second consecutive year, he says, noting that this would once have "been unthinkable for the formerly high-flying mobile PC business."
Encouraging market developments – do they offer some green shoots of hope?
Stice says while mobile PCs look like they are losing the battle against tablets, some new developments offer glimmers of encouragement.
For example, Ultrabooks are set to speed up considerably with Intel's new Haswell microprocessors and its soon-to-be-released Bay Trail chip.
Another hopeful development is that batteries in Ultrabooks look set to last longer, which would enhance their appeal to customers.
Intel rival Advanced Micro Devices (AMD), has already released a new series of processors that are set to compete not only on performance but also on other appealing features like low power and entry-level pricing.
These new developments may well stimulate the market, if only by showing that there are players still actively investing in the mobile PC.
Another boost could come from "proxy desktop benefits"
Windows XP has been a workhorse for the commercial market, and when it expires in April next year, there is every likelihood that the market will experience a "refresh cycle" as corporations decide how best to update their desktop systems.
Excitement over new software and hardware in this market could spill over and engage consumers to look at notebook PCs, says Stice.
Hopes are set on fourth quarter results – plus hard road ahead
Stice says the fourth quarter could "end up as one of the most important holiday seasons yet for the PC industry". With new technologies launching, the PC trade believes it is "playing its best hand for years," he adds, noting that:
"Many eyes will be watching to see how the rest of the year – to say nothing of 2014 – turns out."
Still, for the PC market overall, including mobile computers, the year looks set to end on a disappointing note.
Despite the strong upturn in the second half of 2013, the damage from the first half looks set to wipe it out, and year-end results will be flat, and so the PC market is likely to show a second year of decline, following 2012, which saw the first fall in 11 years.