Netflix Inc. announced that it now has 44 million members and expects to end this quarter with 48 million. Netflix provides streaming videos and DVDs by post.
It charges 7.99 per month in the US for which users are allowed to access from two screens at the same time, i.e. the service can also be used by a relative or friend.
In the fourth quarter of 2013, the company had an additional (net) 2.33 million subscribers in the US, 14% more than the 2.05 million acquired in Q4 2012. Overall, including overseas, the company had 4 million additional subscribers in Q4 2013.
In a letter to shareholders, Netflix wrote:
"We expect this momentum to continue in Q1 with net additions of 2.25 million to exceed the prior year by about 11%. Running equal to, or slightly above, prior year net additions is a great outcome because it implies that at 33 million domestic members we're still in the middle section of the S curve of consumer adoption, with years of member growth ahead of us."
Netflix says it aims to eventually offer new subscribers a number of options, including a lower $6.99 price for just a single-person usage, and also a three-stream option.
The company has some challenges ahead, the main one regarding a recent ruling overturning net neutrality rules that could put Netflix at a disadvantage.
Netflix not considering commercials
When it was suggested that Netflix is now established and popular enough so that people would accept some limited ads, CEO Reed Hastings was adamant that this will not happen.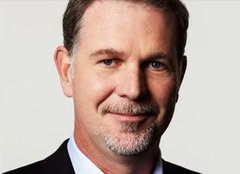 Hastings said "We have no plans for going to advertising-based models. It's not something we're contemplating."
Ted Sarandos, Chief Content Officer has often explained that the main reason people sign up to Netflix, apart from seeing what they want when they want, is because they can watch an episode or season with no ads.
Netflix' licensing does not allow it to run commercials. If the company were to consider including ads one day it would have to completely overhaul the service.
Netfix, some background information
Netflix Inc. was established in 1997 in Scotts Valley, California, by Marc Randolph and Reed Hastings. Its head office today is in Los Gatos, California.
The idea of Netflix came to Hasting one day after he had to pay $40 in overdue penalties after returning Apollo 13, which was well past its due date.
Its digital distribution service started in 1999. By 2009 it had over 100,000 titles on DVD and more than 10 million subscribers.
In the year 2000 Netflix was offered to Blockbuster for $50 million, but the offer was turned down.