Vancouver-based copper mining company Nevsun Resources Ltd. says a forced labor lawsuit filed against it and an African subcontractor in a British Columbia court is "unfounded".
The complaint, filed on Thursday in the Supreme Court of British Columbia, coincided with the start of talks with London-based QKR Corp. about a possible takeover.
Nevsun is 60% part-owner of the Bisha Mine in the State of Eritrea, which started producing copper commercially in December last year. The plaintiffs' attorney forwarded a copy of the suit, which claims three former workers were victims of forced labor at the mine.
According to the suit:
"The plaintiffs and other forced laborers were forced to endure harsh and dangerous working conditions."
Nevsun, which stressed that the allegations are unfounded, says it will vigorously defend itself.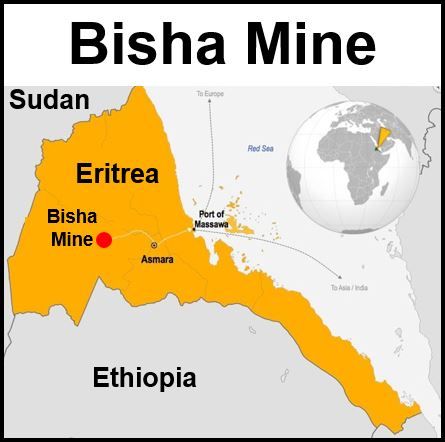 The alleged forced labor is said to have occurred at Nevsun's Bisha Mine in Eritrea. (Photo: Nevsun)
In a statement on Friday, Nevsun CEO Cliff Davis said:
"We are confident that the allegations are unfounded. Based on various company-led and third party audits, the Bisha Mine has adhered at all times to international standards of governance, workplace conditions, and health and safety."
"We are committed to ensuring that the Bisha Mine is managed in a safe and responsible manner that respects the interests of the local communities, workers, national governance, stakeholders, and the natural environment."
Nevsun says it strives to ensure that its presence has a positive social and economic impact. "With spin-off effects, the Bisha Mina has created meaningful employment four thousands of Eritreans," it added.
No bid for the company
Regarding media speculation about an acquisition move, the company said on Thursday that in the normal course of business it receives inquiries regarding corporate mergers and acquisitions. Recently it has received expressions of interest from various parties regarding a corporate transaction, it explained.
Nevsun wrote:
"We take these inquiries seriously, however, any discussions are at a preliminary stage and there is no certainty that any transaction will be completed.  Management is not aware of a bid for the Company.  Nevsun does not intend to comment further on potential corporate transactions unless and until it deems further disclosure is appropriate or required by applicable law."
Rumors of a possible takeover pushed Nevsun's share price up by over 11% on the Toronto Stock Exchange on Thursday.