New car sales are expected to increase by 1.6 in January, 2014, compared to January 2013, with a total of 1.06 million units sold, and an estimated 15.9 million SAAR (seasonally adjusted annual rate), says the Kelley Blue Book, a leading source of used and new car information.
A January SAAR of 15.9 million would be a seven-year record (in 2007 it reached 16.4 million).
Alec Gutierrez, senior analyst for Kelley Blue Book, said:
"January is typically the weakest sales month of the year as many consumers take advantage of holiday deals in December."
"However, winter storms also could impact new-vehicle sales this month, as much of the country deals with historically cold weather and snowstorms. Early estimates indicate fleet sales will be down as well."
Below are some highlighted data regarding the January 2014 sales forecast:
New light-vehicle sales for January, including fleet, are expected to reach 1,060,000 units, an increase of 1.6% compared to January 2013, and 21.9% less than in December last year.
The SAAR for January 2014 is forecast to be 15.9 million units, compared to 15.2 million in January 2013, and 15.3 in December 2013.
83% of the volume is expected to come from retail sales.
Good new car sales expected for Nissan and Chrysler
Chrysler, thanks to strong increases in the sales of its RAM and Jeep brands, is expected to have a respectable increase in January. Jeep sales rose 34% last month after the recent launch of the Cherokee crossover, "while overall industry was flat."
RAM sales in December were 22% higher than in December 2012.
Gutierrez said "We expect Nissan to record a solid sales month in January from its top products, the Altima and the all-new Rogue. Both set record sales in 2013, and the Rogue has become an integral part of Nissan's portfolio with compact crossover sales booming among consumers."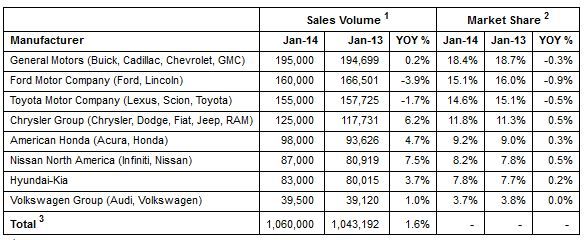 1Historical data from OEM sales announcements. 2Kelley Blue Book Automotive Insights. 3Includes brands not shown. (Source: Kelley Blue Book).
For the 15th successive month, compact crossovers are expected to continue to report double-digit growth, but not as strong as the 20% seen in 2013.
The report authors predict that entry-level vehicles will register higher sales, partly driven by the recent introduction of the BMW 4 Series and all-new Mercedes-Benz CLA-Class.
Guitierrez said "Following a huge year in 2013, full-size pickup truck sales should see growth slow in 2014. General Motors will look to cut back on incentives on the all-new Chevrolet Silverado and GMC Sierra, while Ford manages their inventory before its new line of F-Series trucks hits the market later this year."

1Kelley Blue Book Automotive Insights. 2Includes segments not shown (Source: Kelley Blue Book).