New car sales dropped by 20% in April compared to the same period last year, according to the Society of Motor Manufacturers and Traders (SMMT).
The decline comes after a new vehicle excise duty (VED) came into effect on 1 April.
A total of 152,076 new cars were registered last month, down from 189,505 registrations in April 2016.
Private registrations dropped by 28.4%, while registrations by fleets and businesses declined by 12.3% and 21% respectively.
Despite the decline in April, the SMMT said that the overall new car market remains strong in the year to date. The number of new registrations in the first quarter of 2017 increased by 1.1% compared to the first four months of 2016 to 972,092 – the highest level on record.
A total of 972,092 vehicles were registered in the first four months of 2017.
New car registrations in the UK: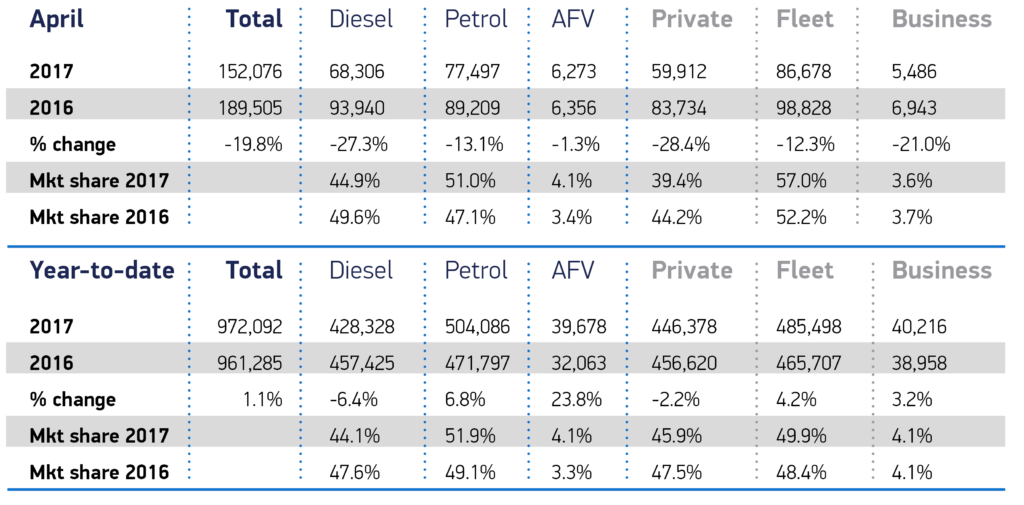 SMMT chief executive Mike Hawes expects demand to stabilise over the year:
"With the rush to register new cars and avoid VED tax rises before the end of March, as well as fewer selling days due to the later Easter, April was always going to be much slower."
"It's important to note that the market remains at record levels as customers still see many benefits in purchasing a new car. We therefore expect demand to stabilise over the year as the turbulence created by these tax changes decreases," he added.
Ian Gilmartin, head of retail and wholesale at Barclays, was quoted by Motor Trader as saying:
"A dip in new car registrations was anticipated by everyone in the industry following the duty changes introduced at the beginning of April.
"That said, a 20% fall is significant, and can't be entirely attributed to the increase in VED. Consumers may be beginning to tighten the purse strings on large purchases given ongoing uncertainty in the wider economy.
"So, as has been predicted for some time we're probably now seeing some levelling off in demand."