Intel is unveiling its new Skylake processors this August, but leaked presentation slides of the chips have already circulated the web.
FanlessTech posted images of the slides, which (if real) reveal that the new chips will be more energy efficient (boasting 30% better battery life) and feature 10-20% better CPU performance for single and multi threaded apps.
The new 14 nm processor is set to give gamers full advantage of high quality graphics by being 16 to 40% faster.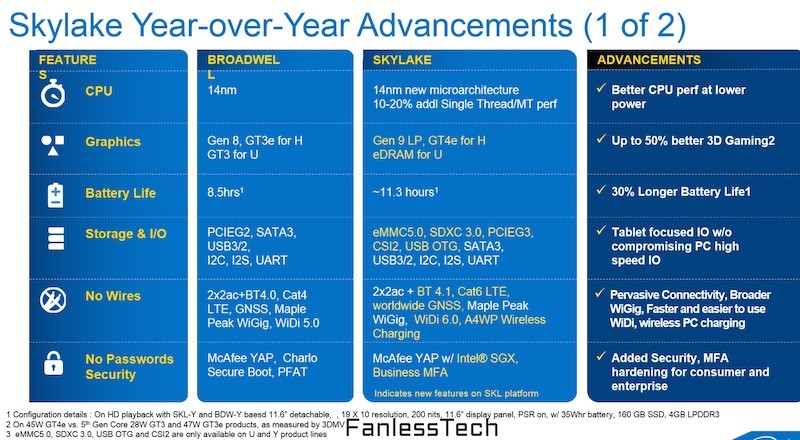 Intel has designed 4 different types of processors for Skylake: S (for desktop computers), and Y, U and H (for cellphones).
The S series (desktop) will provide up to 11% more CPU performance and up to 28% faster HD graphics.
The Y series (mobile) will offer users up to 17% CPU performance improvement, 140 minutes more battery life and up to 41% better HD graphics.
The U series will have a 10% faster CPU, 1.4 hours of longer battery and up to 34% faster Intel HD graphics.
The H series (mobile) will feature 11% better CPU performance and up to a 16% improvement in graphics.
Compared to Broadwell, there is a big improvement for the Y and U series as they are 41% and 34 percent faster respectively.
Intel will introduce its processor on August 5 and establish itself in the the market with upcoming Windows 10 devices.
It is rumored that the new Skylake processor will first appear on the Microsoft Surface Pro 4 tablet.