Nike Inc. has reported very strong quarterly results – ahead of what most analysts predicted – and nearly everything across the board looks strong for company.
The American sporting-goods giant reported an 8 percent increase in total revenues, which reached nearly $7.0 billion.
Net income increased 38 percent compared to the same time last year, up from $567 million to $780 million a year – diluted earnings per share were $0.86.
Sales totaled $6.97 billion (a 7.7 percent increase) which was well ahead of most analyst estimates. Sales in North America rose 9.4 percent to $3.14 billion.
Mark Parker, President and CEO of NIKE, Inc., said:
"We had a great first quarter driven by our unrelenting commitment to delivering innovative products and services to athletes around the world."
He added:
"Our powerful portfolio of businesses combined with unmatched leadership and resources allows us to capitalize on opportunities that drive long-term value for our shareholders. I am more excited than ever about our potential to continue to innovate with purpose, and fuel NIKE's growth."
NIKE Brand revenues were higher in Basketball, Running, Soccer and Men's Training. The company only experienced a small drop in Sportswear revenue.
From September to January the number of orders for Nike products rose 10 percent, and the gross margin went up from 43.7 percent to 44.9 percent.
Future orders for Nike products are on the rise too, with an 8 percent increase in orders for NIKE Brand athletic footwear and apparel scheduled for delivery from September 2013 through January 2014, compared to the same period last year.
Nike Inc. is based near Beaverton, Oregon, USA. The company is the leading designer, marketer and distributor of authentic athletic equipment, apparel, footwear and accessories for a whole range of sports activities.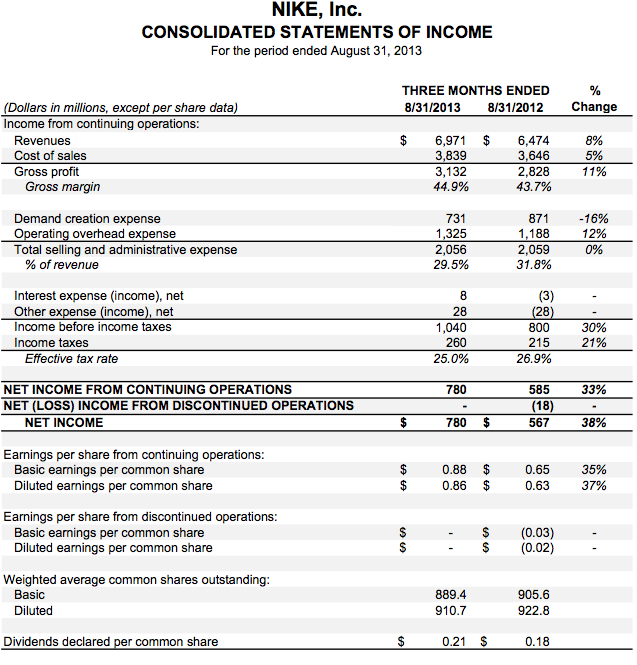 Nike employs over 44,000 people worldwide. The "Nike" brand alone is valued at $10.7% billion – it has the most valuable brand among sports businesses.
Bill Bowerman and Phil Knight founded a company – Blue Ribbon Sports – in January 1964. In 1971, the name was changed to Nike Inc.
The first quarter results for Nike can be found here.